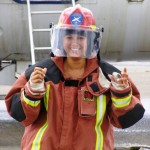 Clare Harris, Deputy Airport Director, and Nigel Kirby, DFID Project Manager, were in Johannesburg last week to meet with Basil Read and Lanseria International Airport to focus on the actions that all parties need to take to ensure that certification of St Helena's Airport is achieved on time. 
During two days of meetings with Basil Read, Clare and Nigel reviewed the programme to achieve certification of the Airport, clarified responsibilities and agreed a programme of action – which will be monitored on a monthly basis to minimise the risk of delays to opening the Airport.  Clare and Nigel were also invited to join the regular 06:30 Friday internal Basil Read/Lanseria meeting, where progress is reviewed in the preparation of the many manuals and plans for staffing and training. 
The issues discussed in SA with be followed up in the UK this week in meetings with the regulator, Air Safety Support International (ASSI) and the UK Department for Transport.
The visit to Lanseria International Airport provided an opportunity to see a live airport in operation, and to review first hand many of the processes that will need to be established for St Helena.  The visit included close observation of all the activities for both arrival and departure of an aircraft, including checking in, immigration, customs, baggage handling in and out of the aircraft, marshalling and push-back of the aircraft. There was also a demonstration of the rescue and fire-fighting service (RFFS) capabilities with a full scale practice of evacuating an aircraft filled with smoke.
Clare was given an opportunity to 'push back' a Boeing 737-800, join the pilot in the cockpit of the aircraft, travel with the baggage trolleys to see how cases are offloaded and placed on the carousel and to put on full fire-fighting equipment and join the rescue teams entering the simulated aircraft fire.
SHG thanks everyone at Basil Read and Lanseria who made Clare and Nigel so welcome.
Two pictures are attached to this release.
SHG
10 March 2014