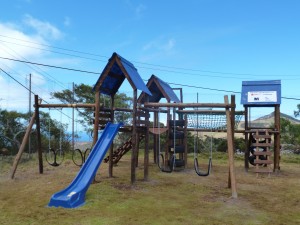 'School Spruce' is a community based project aiming to visually and physically improve the Primary Schools play facilities.  
The project began in August this year and with the help of St Helena Government, the private sector, St Helena National Trust and Enterprise St Helena – parents, volunteers and children have all been working together to plan improvements, donate materials and conduct the physical work. 
Over the weekend of 7 and 8 December at Harford School, a team from Basil Read donated and installed jungle gym equipment drawn from their materials and suppliers.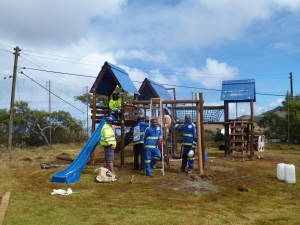 The school had contacted Basil Read logistics team in Johannesburg hoping for advice on the most economical way of making Harford's plans a reality.  Suppliers then contacted were Ohorongo Cement, Ash Resources and Meihuizens International who came back with a simple suggestion – 'let us sponsor a piece of equipment'.
Paula McLeod, Chairperson of Harford's PTA, commented:
"This is a fantastic show of generosity and kindness from Basil Read and is greatly appreciated by everyone at the school. The children were so excited to arrive at school on Monday and see the new addition to their playground. We would all like to say a big THANK YOU to Basil Read from Harford's children, teachers, parents and friends, especially to the kind men who gave up their weekend to do something really special for the community.
"In the new year we will be asking for parents and friends of the Harford community to get together for a spruce day to give our littlest children a play environment as special as that of their bigger friends."  
Deon De Jager, Basil Read's Island Director, was gracious in his response:
"We are happy to help the Island whenever we can."
The St Helena National Trust is encouraging children to understand the importance of St Helena's natural resources and culture.  Plans for a "Bug Hotel", outdoor musical instruments and companion planting tie together Harford's biggest priorities – 'our children, our environment and our culture'.
Two pictures are attached with this release
SHG
10 December 2013