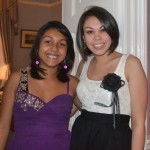 On Thursday evening, 15 August, invited guests, including returning university students, parents and teachers bid farewell to two previous Prince Andrew School students, Sasha Bargo and Chloe Terry, as they embark on their journey to the UK through the St Helena Scholarship Scheme.   
Sasha Bargo has chosen to study a foundation Degree in Ecology and Conservation.  On her return to the Island she hopes to put her skills to use within the St Helena National Trust.  Speaking about picking this particular subject, Sasha commented:
"I have a keen interest in the outdoors and with my career I wanted a balance between working within an office environment and working outdoors." 
Although Sasha is anxious about the new challenge she is about to face, she is excited about being given this new opportunity.
Chloe Terry will attend Loughborough University to study a Bachelor of Science Degree in Air Transport Management, for three years. 
Commenting on her choice, Chloe said:
"The Island is moving forward and I wanted to be a part of that by becoming involved in the airport project.  I am nervous about leaving my parents as I know I will miss them as well as my friends, and the lifestyle the Island offers."
HE Governor, Mark Capes gave a short speech during the reception, congratulating returning scholarship students who all received first class honours degrees in their chosen fields.  He wished Chloe and Sasha luck in their university studies and drawing from his previous speech at the Prince Andrew School awards ceremony, the message was one of achievement through having the right attitude.  Both students will be leaving their families to study in the UK and the Governor recognised the difficult task that they are about to face.  He encouraged them to talk with returning students to draw from them their experiences – and to make the most of their time in the UK.      
Throughout the rest of the evening Chloe and Sasha mingled with guests who offered their congratulations.  They also chatted with previous university students about the difficulties and benefits of studying for a Degree.   
(Four pictures are attached with this release)
SHG
16 August 2013