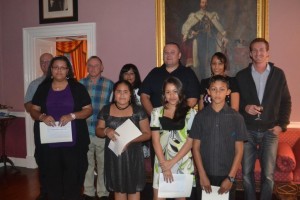 Launched at the beginning of June, the St Helena Photography Competition encouraged entrants to submit photos of all types ranging from family snapshots, home surroundings, celebrations and favourite scenic spots on the Island.     
With a steady flow of entries over the following weeks and a slightly extended deadline to encourage younger participants, the total number of entrants amounted to 84.  Averaging 5 photos per submission, the total number of to judge was a staggering and welcomed 420. 
This was a tremendous response and a tough decision for the judges, Robyn Sim, Barbara George, Darrin Henry and Ed Thorpe.
Ed commented:
"The harder decisions were in the older category as there were quite a few favourites.  There were some amazing photographs but they could have been taken anywhere.  The winning entrants were shots that best represented St Helena.  These pictures reflect different viewpoints, unique pictures that we have never seen before.  I was very impressed with the 10–15 age category, as they gave the older groups a real run for their money."
Robyn commented on how the judges chose their winners:  
"We went through all the photos and jotted down those that stood out to us, we then discussed together and after some deliberation we finally came to an agreed decision."
A prize presentation was held at Plantation last night (Tuesday 20 August) to announce the winners.  Invited guests included judges, awardees and keen photographers.
The Governor announced the winners in reverse order and presented cash prizes:
10-15 age category:
Third Place: Charlotte Hubbard
Second Place: Caitlyn Leo
First Place: Chrystabel Greentree
16-21 age category:
Third Place: Terri Clingham
Second Place: Josh Hubbard
First Place: Eira Stevens
Over 22 age Category:
Third Place: Mike Thorpe
Second Place: Joe Hollins
First Place: Mark Stevenson
Due to the surprising amount of entries and quality of photos received, recognition was also given to individuals who did not win but submitted exceptional photographs.  Distinctions were awarded to Scott Thomas, Alison Hubbard, Remi Bruneton and Helena Bennett.  
Winners and Distinction photographs will be used for publicity and displayed on the St Helena Government Website – on the photo gallery www.sainthelena.gov.sh
(picture of the winners at plantation attached)
SHG
21 August 2013