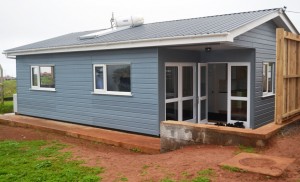 An Open Day was held on 27 August 2013 at one of the three new steel-framed homes on St Helena.
Located at Bottom Woods the new home is one of the first three Government landlord houses to be built in 10 years. Showcasing modern methods of construction the new home features an open plan layout with two large bedrooms, a bathroom, fully fitted kitchen area, utility room and outside patio. All three new homes are fitted with solar-powered water heating.
Andy Crowe, Housing Executive explained the reasoning behind these steel-framed homes:
"The steel-framed homes built at Bradleys Camp for the airport workers were built very quickly so this was a pilot project to see whether the same technique could be applied for homes to buy and rent on the Island.
"Steel frames are just one of the many modern methods of construction that have been exploited around the world moving to building techniques that can be faster and cost effective, warmer and more free from damp than the traditional forms."
The purpose of the Open Day was to gather the public's views on the new homes.
Andy said:
"We have our own views on how the new homes look and work, but the most important thing was for visitors to the home to give their ideas and recommendations."
Over 150 visitors attended the Open Day and 66 took the time to comment on the house. 60 of these made positive comments such as "fantastic – when can I move in?" "love the space," "ideal for a small family," and "very lucky tenants".
Importantly many commented favourably on the "good workmanship" and the fact that "you could never tell it has a metal frame". The most common comment was that the home was warm and comfortable even though it was cold outside and the doors were open.
Visitors also took the time to make suggestions on how the new homes planned for Half Tree Hollow might differ – tiling rather than carpeting the floors, more privacy for the bathroom and toilet, some outside storage and fitted cupboards have all now been incorporated into the planning application for Half Tree Hollow, shortly to be submitted.
The three homes took approximately 8 months from start on site to completion and cost just over £50,000 each to build. Included in the cost are a fully fitted kitchen and bathroom, carpeting and tiling.
Andy explained:
"The time to build three houses was longer than anticipated, but we have to bear in mind that this is a learning process. I am sure we can get them completed faster. Equally, we expect the cost to fall now that builders on the Island are more familiar with the skills and materials needed."
SHG
28 August 2013