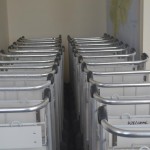 Twenty five luggage trolleys arrived on the RMS on 30 October 2013 and were used for the first time on 6 November, when passengers disembarked the RMS and proceeded through Immigration and Customs control.
The luggage trolleys were requested by Peter Henderson (former Director General HM Revenue and Customs) as part of the finishing touches for the Customs House Project.  These trolleys are significant and unique in that they have been previously used in the Olympic Village during the London 2012 Olympic Games, and most likely were used by participating athletes from all over the world.
Although fully refurbished by the manufacturer and despite being used only for a few months, they were purchased at half the cost of new trolleys.  They reduce clutter and space within the Customs Building (at the Wharf) and they stack together to reduce storage room.  They are sturdy and can transport several luggage items at a time.
Lionel Joshua, Customs Manager, commented:
"We have had a limited amount of trolleys previously, but these new additions have made it far easier for passengers to transport their baggage.  In the past, arrivals dragged their baggage out of the building.  The addition of extra trolleys allows a safer and user friendly means of transporting luggage.  We now have trolleys to meet our demands.  They were ordered in a timely manner and it was an added surprise that they were used by Olympic athletes.  
These trolleys will now be used by those arriving and departing on the RMS – and bringing a small part of the London 2012 Olympic legacy to St Helena.
SHG
11 November 2013