Working in the Health Service since 1972, David Jenkins has taken on the role as the new Director of Health and Social Welfare on St Helena. David, who has previously been registered as a nurse, has a range of experience in different settings in the Health field. Previously working as Hospital Director at North Yorkshire's, Northallerton Hospital and before coming to St Helena David was the Director of Health and Social Services on the Falkland Islands for three and a half years.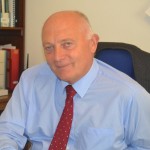 David commented: "I have direct experience of working in small communities and understand the challenges they face. Being a Hospital Director previously in the United Kingdom, I took forward strategic operational development and corporate assurance for the Strategic Health Authority. I am able to take from these experiences relevant skills to implement an Operational Performance Management system in the Health Service on St Helena. A system that links to clinical performance and risk management that can stand the test of time well after my departure."
With 216 staff, the Health and Social Welfare Director is also in charge of Primary Secondary and Community care. Within the healthcare system, David has already indentified some improvements he wishes to implement during his contract – the development of clinical training and diagnostic support systems, the expansion of telemedicine and linkages with specialists in the UK. One of the major difficulties identified by David is the requirement for Clinical Staff to be competent in a wide range of specialities – and the training of staff who have indicated they welcome changes in improving their output.
David said: "No one person can take the Health Service forward. I will be talking to all staff regarding their opinion on improvements in delivering a more efficient service. I will also be holding future Public Meetings to engage with the community. The changes in the Directorate will not happen overnight but will be rolled out over a period of time. These changes will be challenging but I am excited to be implementing them and moving the Healthcare service forward."
SHG
9 August 2013