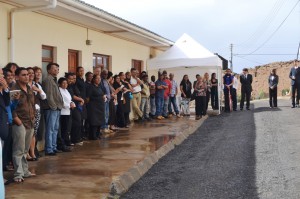 Just over a year since its launch, Enterprise St Helena (ESH) hosted an official Open Day on Friday 19 July 2013 to mark its first year in operation.
Attended by His Excellency Governor Capes, newly Elected Members and other distinguished guests and officials, the Open Day, held at the ESH Business Park at Ladder Hill, sought to inform attendees of what ESH has been doing over the last 12 months, showcase the opportunities and activities that will be available in the next 32 months (the estimated period until the airport opening), and showcase opportunities for development and business growth.
Governor Capes officially opened the ESH Offices at 3pm, and commented:
"The opening of the airport in early 2016 will give St Helena a chance to halt the economic decline of past decades, turning it around so that it can begin to grow and support the needs of St Helena. It will do this by providing good jobs and the revenue we would like to see spent on our Health Care, Schools and Social Services.
"This means that Saints need to take advantage of new business opportunities that air access will make possible, by either improving and expanding existing businesses here or starting new ones – that is why we need ESH who are here to help Saints to get involved and to share in growing our economy."
Following a blessing by Bishop Richard, Governor Capes unveiled the plaque at the cornerstone of the ESH Offices and declared the Enterprise St Helena offices officially opened.
A specially made cake for the occasion was cut by the oldest and newest tenants of the Business Park, after which attendees were able to browse the ESH offices and visit the tenants to find out more about the services they offer.
The work of ESH focuses on six key areas:
• Tourism Promotion
• Up-skilling Saints
• Helping Saint Businesses to Plan for Growth
• Assisting Saint Businesses with Finance
• Fisheries Development
• Attracting Investment (Both local and international).
SHG
22 July 2013