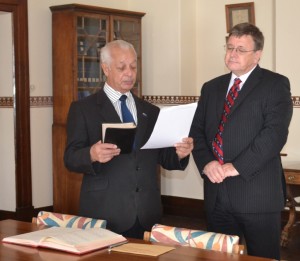 Mr Eric Benjamin, of Market Street, Jamestown, has today been officially Sworn In as Speaker of the House of Legislative Council.
Due to being off-Island when he was duly elected at the inaugural meeting of Legislative Council on 24 July, Mr Benjamin took the prescribed Oaths of Office in the presence of His Excellency, Governor Capes, this morning in HE's Office at the Castle.
Mr Benjamin has already begun his official duties as Speaker following today's arrival of the delegation from the Commonwealth Parliamentary Association, who begin their programme of sessions with Councillors this afternoon.
SHG
30 July 2013