Trevor Botting who recently arrived on Island will take on the role as Police Chief for a contract period of three years. Trevor will be responsible for the Police, Prison, Fire, Sea Rescue and Immigration services.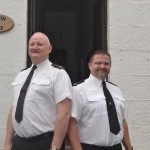 Peter Coll, the current Chief of Police, has served in his role for four years and will depart St Helena on 7 November 2013.  During a two week period Peter will conduct an induction and hand over process, with Trevor officially becoming the Chief of Police on Monday 28 October 2013, supported by Peter until his departure.
Peter said:
"It has been a privilege to serve as Chief of Police. This has been the most challenging and rewarding job in my 33 years in the Police Service. I am very grateful for the dedication and support provided to me by some very good staff and volunteers over that time. It is their sense of duty that very much keeps the Police Directorate running. My wife Julie and I have made many friends during our time here and we look forward to returning to visit to see how St Helena develops. It is a special place with special people."
Trevor's role before taking on employment in St Helena was with Sussex Police as Crime Operations Superintendent, responsible for crime investigations, specialist investigations including child protection and the response to emergency calls, managing 500 officers and staff across a large geographical area.  Trevor has nearly 30 years experience as a Police Officer, with accreditations as a Firearms Commander, Post Incident Manager and Hostage and Crises Negotiator.
HE Governor Capes commented:
''I am very grateful to Peter Coll for his loyal service to the people of St Helena and Ascension Island.  I have enjoyed working with him and greatly valued his professional and good humoured approach to the many different problems that landed on his desk during his four years here.    
"Trevor Botting brings with him much valuable experience as a senior UK Police Officer, including from a stint in charge of policing at Gatwick airport.
"Trevor will have my full support as he sets about his important work.  I hope too that he will have the support of everyone who lives here to help keep St Helena (and Ascension Island) a safe and pleasant place for all to enjoy."
During his command at Gatwick airport Trevor carried out a restructuring of the policing operation there.  In a previous role as an Inspector at Gatwick he introduced an airport community policing team to compliment the armed deployments as part of the overall policing operation.
Trevor said:
"My wife and I (who will join Trevor in December) are delighted to have the opportunity to live and work in such a special and unique place. It will be a privilege to lead the diverse teams that make up the Policing Directorate in serving the people of St Helena. I look forward to getting to know the people and the Island over the coming months." 
SHG
22 October 2013