This year marks the 50th anniversary of World Environment Day, having been established by the United Nations General Assembly in 1972, with the first one then held a year later in 1973.
Celebrated annually on 5 June, this year's World Environment Day theme will focus on 'Solutions to Plastic Pollution' under the campaign #beatplasticpollution. Awareness of the impacts of plastic pollution is growing worldwide and this year's theme is a reminder that people's actions on plastic pollution matters.
Plastic pollution is a global issue, considered one of the biggest problems threatening biodiversity in coastal and marine ecosystems, and especially so for islands. It generates environmental, economic and social impacts as well as impacts for human health. Contrary to some perceptions, plastics do not have a defined decomposition time. They never fully degrade in the environment, which means whether it's in the ocean or landfill, they keep breaking down into smaller pieces before ultimately becoming microplastics (plastics smaller than 5 mm).
Here on St Helena we recognise the growing issues that are caused by plastic pollution and are working on solutions to address this.
Recycling
Waste Management Services (WMS) have recently introduced recycling initiatives across the Island, such as the Public Recycling Facility (PRF) located out at Horse Point Landfill Site, and the Materials Recycling Facility (MRF), both of which are now operational. Contributing to the operation at the MRF, communal recycling hubs have been located at a number of districts. These contain bins for members of the public to dispose of plastics, glass and cans. These are collected and taken to Horse Point Landfill Site where they are emptied and sorted into their different waste streams, before being compacted and baled.
In August 2022 the first bale of plastic waste was produced. Astonishingly, it took 42 wheelie bins full of mixed plastic recovered from the PRF to do this first bale. The more plastics that are recycled, the less end up in our environment, so we strongly encourage everyone to recycle where they can.
South Atlantic Plastics Project
St Helena is also a part of the ''South Atlantic Plastics Project: Ascension and Saint Helena'' funded by the Darwin Initiative. As part of this project, SHG and the St Helena National Trust are working alongside the Zoological Society of London and the Ascension Island Government.
This three year project is focused on research and monitoring, education and awareness, Saints-led intervention ideas and creating a network with other UK Overseas Territories on how to address plastic pollution.
Our main goals are to understand the distribution of sites where litter tends to accumulate, especially plastic, and the impacts this has on our wildlife. Whilst we are already recycling some of the plastic that is imported to the Island, it would be much better to reduce our reliance on plastic in the first place.
By 2025, we're therefore aiming to reduce single-use plastic consumption on the Island by at least 30%. Increasing awareness of plastic litter and contributing to environmental education on the Island will also be a key area of focus. We want to increase the community's knowledge regarding the impacts of plastic and how plastic pollution is everyone's concern, as it impacts tourism, fisheries, human health, biodiversity and ultimately our economy.
The project is currently consulting with the local community in order to understand how much of a problem plastic poses on the Island. We can then all collaboratively think about the best solutions, intervention ideas and affordable options to replace single-use plastic items we currently import and use on St Helena.
The results of this project will be contribute to achieving St Helena's key priorities, such as the Altogether Healthier and Altogether Greener elements of St Helena Government's Vision and Strategic Plan 2022-2025, along with delivering St Helena's Marine Management Plan 2023-2027.
Photos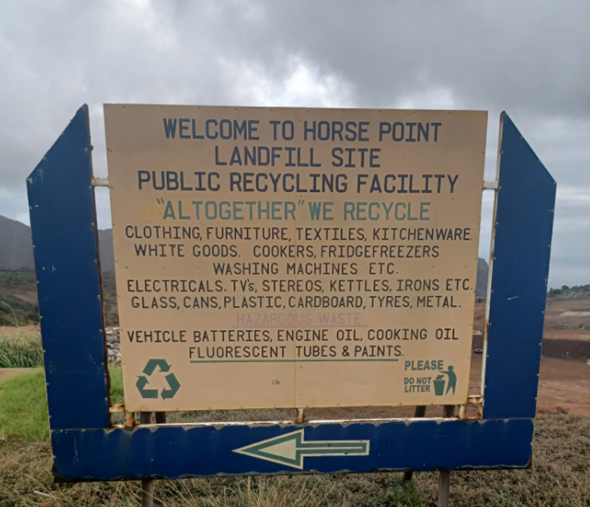 #WorldEnvironmentDay #BeatPlasticPollution #AltogetherGreener #AltogetherHealthier