In November 2022, SHG announced St Helena would receive funding from the Foreign, Commonwealth and Development Office's bespoke 2022/2023: Improving Essential Equipment in Overseas Territories programme.
St Helena spent £1,735,482 on purchasing equipment of critical importance to the Island, in areas including health care, emergency services, port operations, road maintenance and the airport. The purpose is to improve the resilience and well-being of our community.
Focus on Health and Social Care
£778,316 was spent on equipment for Health and Social Care. Eight devices in total were ordered. Three have arrived and SHG will be installing and testing the equipment before it can be put into use.
These new tools will allow medical staff to better manage illnesses on-Island and reduce the need for off-Island referrals. Doing so will improve the turnaround time for assessments and results, delivering better and more timely care to patients, without needing them to travel abroad.
The infographic below provides further details and updates on how these funds have been used for St Helena: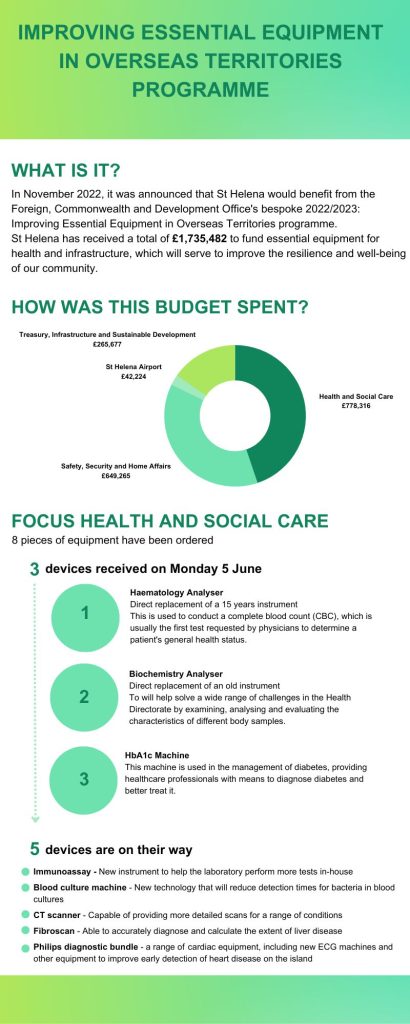 Further details and updates on the equipment procured by St Helena Airport, the Safety Security and Home Affairs Portfolio and the Treasury, Infrastructure and Development Portfolio will be provided in due course.
#StHelena #FCDO #ImprovingEssentialInfrastructure