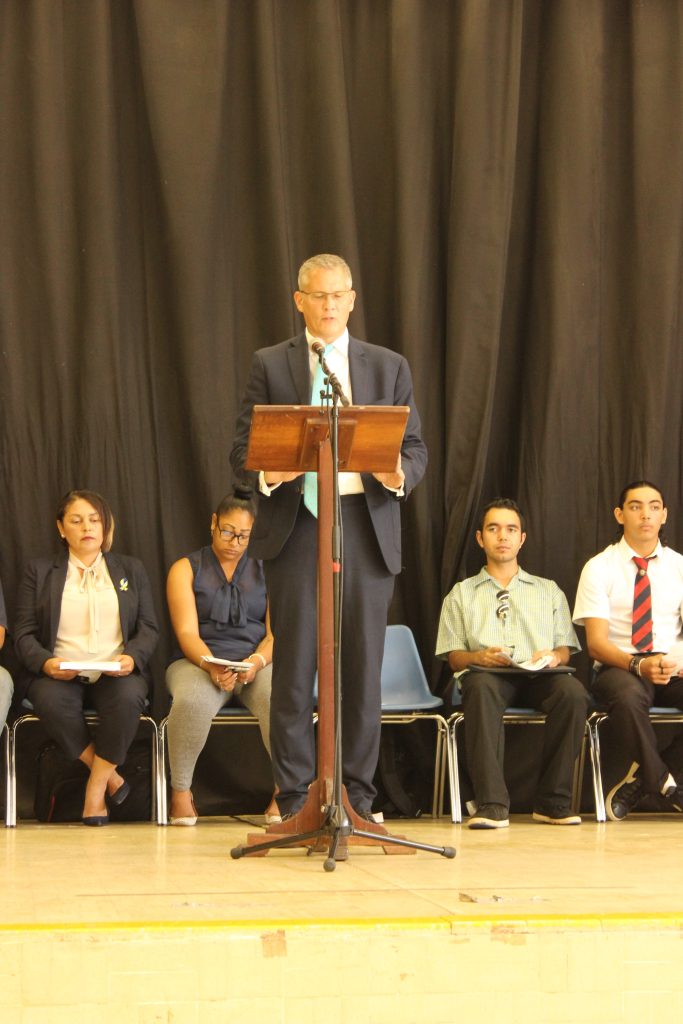 Commonwealth Day 2023 was today celebrated on St Helena with assemblies held at Prince Andrew School (PAS) and the three Island Primary Schools. Commonwealth Day is celebrated across the Commonwealth each year on every second Monday of March. This year's Commonwealth Day theme focused on youth and is 'Forging a Sustainable and Peaceful Common Future'.
During the assembly at PAS, the Speaker of the House and St Helena Commonwealth Parliamentary Association Branch President, Cyril Gunnell, delivered a welcome speech and spoke about 2023 being a historic year for the Commonwealth, noting the Coronation of His Majesty King Charles III and celebrating 50 years of the Commonwealth Youth Programme.
Acting Governor, Greg Gibson, read the message from Head of the Commonwealth, His Majesty King Charles III. Chief Minister, Julie Thomas, read a message from the Right Honourable Patricia Scotland KC, Secretary-General of the Commonwealth of Nations, and PAS Student Council President, Stefan Thomas, read the Commonwealth Affirmation.
This year is 'Year of the Youth' and also marks the 50th anniversary of the Commonwealth Youth Programme. Guest speakers, who were under 30 years of age, were invited to speak about their careers to date, along with some of the challenges they faced and how they overcame these.
Guest speakers included Marine Plastics Project Officer from the Saint Helena National Trust, Matthew Owen, Healthy Lifestyle Coach from the Health & Social Care Portfolio, Raquel Johnson, Teaching Assistant from the Education, Skills & Employment Portfolio, Kayla-Jayne Peters-Brady, Research Assistant from the St Helena Research Institute, Zac Bargo, and Police Constable from the Royal St Helena Police Service, Brittney Coleman.
The assembly concluded with closing remarks from Councillor Karl Thrower. Councillor Thrower read a speech prepared by Councillor Andrew Turner, who unfortunately could not attend due to ill health.
Shortly after, Speaker of the House and St Helena Commonwealth Parliamentary Association Branch President, Cyril Gunnell, raised the Commonwealth Flag at the Francis Plain Pavilion as part of the 'Fly a Flag for the Commonwealth' initiative. This initiative aims to inspire participants to join with others throughout the Commonwealth, a family of 56 nations representing around a third of the world's population.
Commonwealth Day assemblies were also held at the Island Primary Schools. They were attended by Elected Members of the Legislative Council who read His Majesty The King's Commonwealth Day message.
Speaker of the House and St Helena Commonwealth Parliamentary Association Branch President, Cyril Gunnell, concluded:
"It was a pleasure to join people from around the world in celebrating Commonwealth Day. We may be a small Island, but we are part of a wider Commonwealth family of 2.5 billion people, who are united by our shared values. I hope the children and young adults attending assemblies across the Island today embrace the Commonwealth 'Year of the Youth', and consider how they can make an impact themselves in St Helena."
#StHelena #CommonwealthDay
SHG
13 March 2023