Waste Management Services (WMS) trialled two new electric street cleaning machines in the Duke of Edinburgh (DOE) Playground, Jamestown, on Monday, 25 March 2019.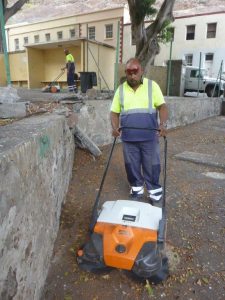 The new machines are powered by a lithium battery, and as such, are much quieter than the leaf blower/vacuum machines WMS would normally use. The new machines operate at just one third of the decibels of the petrol leaf blowers.
Environmental Risk Manager, Mike Durnford, said:
"WMS had received a few noise complaints when using the leaf blowers from 6.30am to 8am for the cleaning of pavements and public areas.
"In line with our Mission Statement of 'working in partnership with customers for a cleaner and greener St Helena', we researched alternative equipment, not only to mitigate the noise issue, but also to deliver a more efficient service that is also environmentally aware.
"Due to their low operating noise, WMS can use these new machines for cleaning public areas throughout the day, without the risk of disturbing residents or businesses."
On Monday, two WMS staff cleaned both the upper and lower sections of the DOE Playground within 90 minutes, which is the running time for the lithium battery fitted to each machine. To achieve the same results with the petrol leaf blowers it would take more staff and more time whilst also creating more noise.
Local Business Owner, Tara Wortley, visited the DOE Playground during the clean-up and commented:
"I normally know when the WMS Team are cleaning the playground because I can hear the leaf blowers. This morning however I was unaware this area was being cleaned until Mike visited me at the Rose & Crown shop. I took the opportunity to watch the team clean the playground, which was almost complete when I arrived. I even had a turn on the machines which are easy to operate and so quiet compared to the leaf blowers. Well done WMS!"
During this week the machines will be further trialled for cleaning the pavements from The Market to the Grand Parade before being used as part of normal operations.
#StHelena #WMS #NewElectricStreetCleaningMachines #Trials #AltogetherGreener
https://twitter.com/StHelenaGovt
https://www.facebook.com/StHelenaGovt/
SHG
28 March 2019