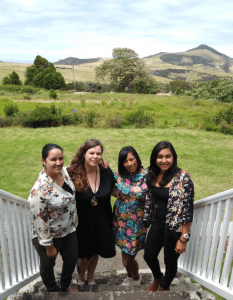 St Helena Government's first Future Leaders Programme (FLP) has come to the end of an exciting year. The programme was designed to give a group of motivated and ambitious colleagues the opportunity to develop their leadership skills, gain wider exposure to SHG, and gain skills to assist them in progressing and developing as potential leaders of the future.
The Future Leaders (FLs) – Belinda Piek, Nicole Hercules, Nikita Crowie and Sasha Bargo (see photo attached) –  have spent their first year undertaking familiarisation visits across the organisation, attending and participating in various workshops tailored to the leadership competencies, working on their professional development, and planning and executing group projects for the benefit of SHG.
Forming part of their work was the SHG Internal Communications Project, commissioned by the Head of News, and which will feed directly into the SHG Communications Strategy. The overall aim of this project was to understand the issues around how we communicate information within SHG, after it was flagged as a concern in the 2015 and subsequent 2018 Employee Opinion Surveys. The FLs qualitative data collection involved speaking to various employees across SHG to find out their views. The report has been shared with the Head of News and key findings were presented to the Core Leadership Group on 29 November 2018.
Chief Secretary and Programme Initiator, Susan O'Bey, said:
"I have been impressed by the way the group have worked together on the Programme, they have demonstrated that they have what it takes to be the leaders of tomorrow, they have set the standard for future cohorts and I am extremely proud of their work ethic and their achievements. I hope that other people in the organisation will be inspired to come forward and join the next cohort."
The FLs embarked on their first work placements at the beginning of September 2018. The purpose of these placements was to expose the FLs to a different directorate, thus giving them a wider understanding of SHG and, through shadowing a leader, learn different leadership styles. So far, the FLs have been involved with strategic planning, budgeting, extending and applying their professional development, and becoming familiar with how different directorates are structured and managed.
Organisational Development Manager and new Programme Lead, Laura Stroud, commented:
"The FLP is a fantastic opportunity offered by SHG and during my first six months I have seen the FLs grow in experience and confidence.  They are enthusiastic and ambitious and share a wide range of experiences and fresh perspectives.  I would like to take this opportunity to thank directors for their continued support and a big thank you to other supporters who are involved in the next phase of this programme."
Since the start of the programme, the FLs have had the opportunity to learn substantial leadership skills, networked with a variety of different people, learnt how SHG operates at a more corporate level, gained confidence in their abilities as leaders and some have made significant career progressions. The next, and final, phase of the programme will be tailored more towards their long-term goals and where they see themselves as leaders in the future.
SHG will soon be seeking a new cohort of future leaders which will be advertised in due course.
#StHelena #FutureLeaders #OneYearOn
https://www.facebook.com/StHelenaGovt/
https://twitter.com/StHelenaGovt
 SHG
4 January 2019