St Helena can claim further success in the Cambridge International Certificate in Educational Leadership course as Head Teacher of St Paul's Primary School, Pat Williams, has passed with a 'Distinction' grade.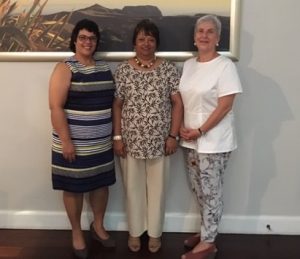 Pat said:
"I am really thrilled and proud to have gained my Cambridge leadership qualification. I have done various leadership courses locally and had the opportunity to complete some modules of The National Professional Qualification for Headship in 2003 whilst on overseas training. However, receiving this fantastic news has boosted my confidence as I now have an international certificate of recognition."
All Cambridge Professional Development Qualifications at Certificate Award level are placed on the Higher Education Qualifications Framework (HEQF) at Level 4. This means that the academic and skill demands are equivalent to being on the first year of a university course.
Pat added:
"It wasn't easy having to juggle the time to work towards this qualification alongside my already busy workload as a Head Teacher, but early mornings and dedicated study time, plus the great support that I had from my husband and fellow senior colleagues and staff members at school, helped me to stay motivated and saw me able to complete the course in December 2018, a month after some of my fellow colleagues."
Course Leader, Julia Drozdowskij, concluded:
"I am extremely proud of Pat for achieving this stunning success. She follows in the footsteps of the previous candidates who completed this demanding course whilst holding down challenging full-time positions. The fact that Pat achieved a 'Distinction' is phenomenal and deserves heartfelt praise."
The Cambridge International Certificate & Diploma in Educational Leadership is a Professional Development Qualification run by the prestigious University of Cambridge in the United Kingdom. The qualification is internationally recognised as a mark of excellence for the individual Educational Leader and aims to improve professional profiles and career development.
#StHelena #Education #CambridgeUniversity #CertificateInEducationalLeadership #SaintSuccess
https://www.facebook.com/StHelenaGovt/
https://twitter.com/StHelenaGovt
SHG
20 March 2019