Following unforeseen technical difficulties with the crane on Thursday, 10 January 2019, works to carry out a partial disassembly of the flag mast at Signal House, Ladder Hill, have continued and progressed well today, Friday, 11 January.
The St Helena Fire & Rescue Service, along with partners from the Environment & Natural Resources Directorate, have taken the yard arm down and are now working on lowering the top flagpole.
Work is expected to be completed by 4pm today.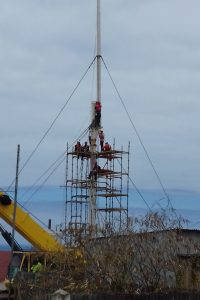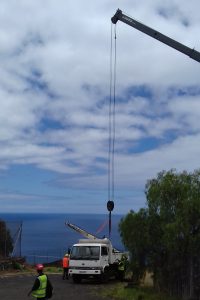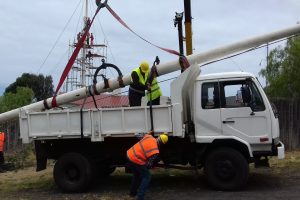 Whilst the works continue, the cordoned-off areas including the Leisure Park, Coffee Shop, Sanray's Bistro, the Museum car park, Donny's Place, the Sand Yard, the road leading to West Rocks, and all of the West Rocks area, remain out of bounds to members of the public.
The public will be kept updated on the works and opening of the closed areas via local radio stations.
#StHelena #FlagMast #PublicSafety #FireAndRescue #ENRD
https://www.facebook.com/StHelenaGovt /  
https://twitter.com/StHelenaGovt
SHG
11 January 2019