St Helena's Sea Rescue Service has gained two new recruits, with Angelo Ellick and Duwaine Yon recently joining the team.
Angelo was born on St Helena but spent most of his life in the UK where he attended secondary school and college. Angelo has experience in the safety field having worked as a Security Guard in the UK.
Angelo said:
"I am extremely ecstatic to have been recruited by the St Helena Sea Rescue Service and am happy to have started training as part of the team.
"The ocean has always been my passion, especially our St Helena waters. I love to go swimming and fishing. I also like to stay active in my spare time by walking, running, and diving.
"I'm looking forward to learning all the necessary skills required for the job and expanding my knowledge with regards to boating in general. I'm also highly interested in working towards becoming a Sea Rescue Coxswain.
"I feel I can be of great assistance in keeping the maritime community safe once I have become more competent within my job role."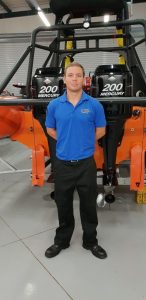 Duwaine Yon moved to St Helena with his family in August 2009 and attended Prince Andrew School. Duwaine is a keen swimmer and has represented St Helena three times at international level.
Duwaine said:
"I have always been in and around the water my entire life, whether on a boat or just swimming. Therefore, it's only natural that I start a career based around the sea.
"I feel that working within the St Helena Sea Rescue Service will give me the chance to give back to the Island's community. I like to believe that I would put other people's needs before my own, and have a high regard for safety.
"I am looking forward to the training I will receive, and being able to assist in any of the team's operations."
#StHelena #SeaRescue #NewRecruits #AltogetherSafer
https://www.facebook.com/StHelenaGovt/
https://twitter.com/StHelenaGovt
SHG
8 February 2019