Louisa Plato of Blue Hill  has achieved a First Class Honours Bachelor of Science Degree in Adult Nursing following three years of study with Derby University in the UK.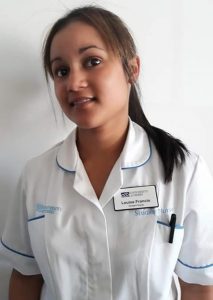 Louisa said about her achievement:
"To be honest, I am still quite overwhelmed with this accomplishment, I would have never thought of getting a First Class Honours degree classification. However, I would not have succeeded without my personal mentor Guy Collins, the help of my teachers, friends, family, and especially my mum who has always been there to help and support me when I needed it." 
In her first year, Louisa completed modules in Foundation of Nursing, Integrated Adult Nursing Practice 1, Applied Health Science 1 and Evidence-based Practice. This was followed in year two by Research Methods, Applied Health Science 2, Integrated Adult Nursing Practice 2 and Public Health. In her third and final year, Louisa completed modules in Applied Health Science 3, Integrated Adult Nursing Practice 3, Team Working, Leadership and Management and Quality Improvement. All modules were completed alongside clinical placements at various places in Derby, mostly at the Royal Derby Hospital, with each shift of Louisa's placement being around 12.5 hours.
On studying towards this degree, Louisa said:
"Studying towards this degree has been quite challenging, as I was quite homesick at the beginning of the course, and missed my friends and family. I also had my son during the second year of this course, and had to manage with balancing student life and being a mother. However, I have had a huge amount of support from my husband, who has looked after our son whilst I completed the degree.
"I have had an amazing journey over these years and have thoroughly enjoyed it. I've met so many wonderful people, including colleagues, teachers and patients I've cared for. I have made new friends and greatly appreciate everyone's support and encouragement. I will forever treasure the learning opportunity and the memories made along the way."
Louisa is currently on a management placement at the Royal Derby Hospital on Ward 206 as she needs to work a certain number of hours with the Nursing & Midwifery Council before she can become a registered nurse. Louisa will start her new role as a qualified nurse in May on this ward which specialises in elective orthopaedics. She is hoping to return to St Helena at the end of this year having gained further work experience as a newly qualified nurse.
St Helena's Hospital Nursing Officer, Lisa Niemand, said:
"Louisa is another fantastic example of the intelligence and determination of Saints. It was especially exciting hearing the news on International Women's Day. Louisa is an excellent example of a strong woman who is shaping a positive future for herself and her family.
 "We are supporting and encouraged by Louisa's wishes to remain in the UK and work for a few months. This is because the experience and exposure she will gain working in a busy UK NHS hospital will be excellent for her knowledge and skills that will be developing as a newly qualified nurse. We hope to have her return to work at the General Hospital at the end of the year/beginning of next year."
Louisa concluded:
"I would just like to say a huge 'thank you' to everyone who has supported me and helped me to accomplish what I've always wanted to be, 'a nurse'." 
Louisa left St Helena in August 2015 following three years at the St Helena General Hospital, first as a Nursing Assistant and then as a Student Nurse.
Congratulations are extended to Louisa from all at St Helena Government.
#StHelena #SaintSuccess
https://www.facebook.com/StHelenaGovt/
https://twitter.com/StHelenaGovt
SHG
12 March 2019