David Young of Ladder Hill has been appointed as a full-time Firefighter within the St Helena Fire & Rescue Service (SHF&RS) after originally joining the service as an apprentice in 2016.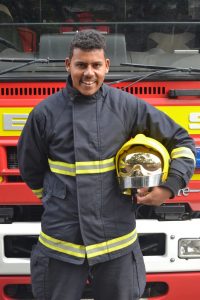 David said:
"I feel privileged to be given this opportunity in becoming a full-time firefighter with the SHF&RS and I'm excited for what the future holds. While the role will be challenging for me, having to learn new things, I am willing to work towards achieving the objectives of the post as well as developing myself personally and professionally."
David started working with the SHF&RS in June 2016 as an apprentice through the St Helena Community College Apprenticeship Scheme. During his apprenticeship, David trained alongside the full-time firefighters to develop new skills and learn what it takes to become a fully competent firefighter, something which he aspires to be. During this time David also studied and successfully achieved a passing grade in Functional Skills – Mathematics Level 2.
Recognising David's hard work and commitment within the SHF&RS, be it on the training ground or attending real emergencies, he was given the opportunity to join the service as an Auxiliary Firefighter at the end of his two-year apprenticeship.
In this role, David further developed his firefighting skills, which included attending live burn exercises at the St Helena Airport training rig learning how to deal with Aircraft Rescue and Firefighting (ARFF). He also attended and passed a two-week Rope Rescue course.
On 1 January 2019, all of David's hard work over the past three years was rewarded when he was offered the position of Firefighter within the SHF&RS. Since then, David has been training hard in order to past his competencies, which will allow him to further progress within the service.
Watch Manager, David John, said:
"David is a hard working individual who is dedicated to becoming a fully competent firefighter. I congratulate him on his appointment to a full-time position and wish him the best of luck in his new role."
David's daily duties include compiling fire safety reports, hydrant inspections, automatic fire alarm and extinguisher inspections, monthly maintenance of all fire service equipment, and training.
#StHelena #SHF&RS #Firefighter #SaintSuccess #ApprenticeshipScheme #AltogetherSafer
https://www.facebook.com/StHelenaGovt /
https://twitter.com/StHelenaGovt
SHG
13 February 2019