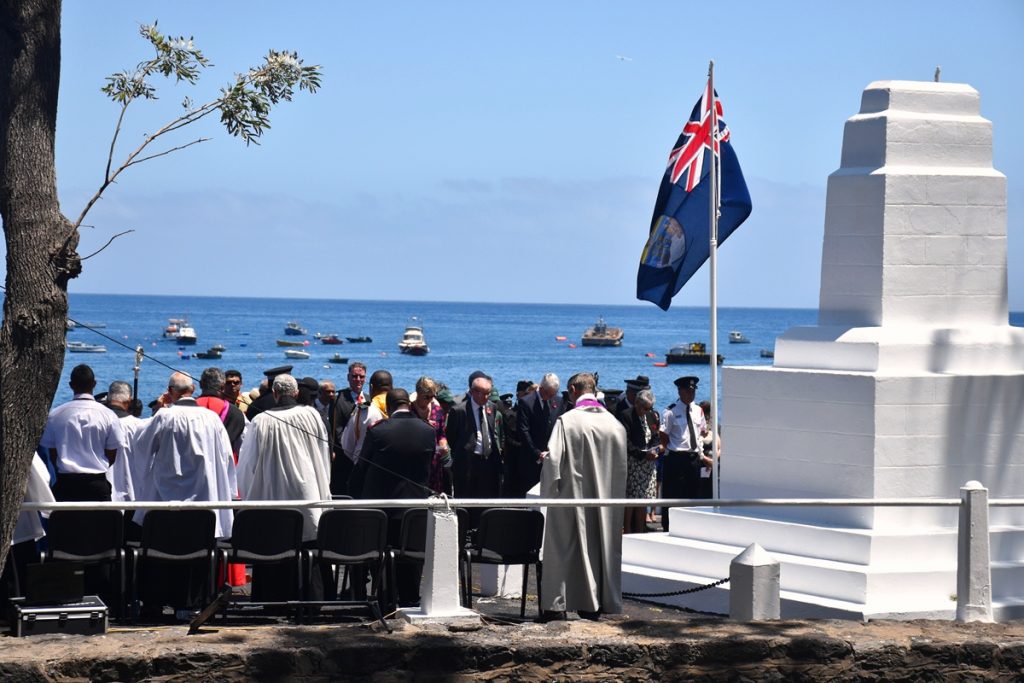 The annual Remembrance Sunday Divine Service, in honour of those who lost their lives or had been injured during active duty, was held at the Cenotaph in Jamestown on Sunday, 10 November 2019.
His Excellency, Governor Dr Philip Rushbrook, arrived at 10.55am, and the Right Reverend Lord Bishop of St Helena Dale Bowers invited the many in attendance to pray, before observing a two-minute silence, signalled by the Last Post.
Wreaths were laid for the Territory by HE Governor Rushbrook, for the French Republic by Michel Dancoisne-Martineau, for the Royal Navy by Mr Jack Horner, for the Army by Mr Barry Stroud, for the Royal Air Force by Mr John Reid, for the Merchant Navy by Miss Mia Henry, for the St Helena Police Service by Mr Garry Henry, and for the St Helena Fire & Rescue and Sea Rescue Service by Mr Kyle Yon. Several schoolchildren also laid wreaths.
Prayers were led by Canon Clive Duncan, Father David Musgrave, Major Priscilla Ziqubu and Deacon Edgar Crowie. During the Service, hymns were sung, including 'O God, Our Help in Ages Past', 'The Lord's My Shepherd' and 'O Valiant Hearts Who to Your Glory Came'.
The Act of Commitment was made and acts of peace were then offered. The Service concluded with the National Anthem and Blessing, followed by the traditional March-Past outside the Court House.
Alongside the service on-Island, St Helena Government's UK Representative, Mrs Kedell Worboys MBE, along with Tristan da Cunha Government's UK Representative, Mr Chris Carnegy, attended the UK's Ceremony of Remembrance at the Cenotaph on Whitehall in London where a wreath was laid by Kedell on behalf of St Helena, Ascension, and Tristan da Cunha
#StHelena #RemembranceSundayService #WeWillRememberThem
https://www.facebook.com/StHelenaGovt/
https://twitter.com/StHelenaGovt
SHG
11 November 2019