Policy Advisor, William Spooner, has joined the Foreign & Commonwealth Office' Governor's Office on St Helena in a new role advising the Governor and providing an increased UK presence on the Island.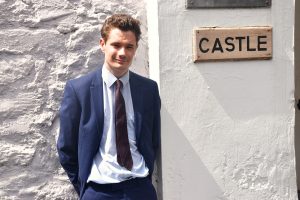 William is a career civil servant having previously worked in the UK Ministry of Justice in its Security and Privacy Team, and before then in the Cabinet Office and the Department for Education on due process and ethics.
William commented:
"It's a pleasure to be here, and to get to know our colleagues in the St Helena Government; everybody has been most kind and welcoming."
Outside work, William is looking forward to tackling the Island's Post Box Walks and hopes to take part in the half marathon later in the year.
#StHelena #FCO #GovernorsOffice #PolicyAdvisor
https://twitter.com/StHelenaGovt
https://www.facebook.com/StHelenaGovt/
SHG/Governor's Office, St Helena
9 April 2019