Zedella Young from Woodlands, Alarm Forest, St Helena (see photo attached), has been awarded a prestigious Foreign & Commonwealth Office Chevening Scholarship. Zedella will undertake a year-long Master's Degree in Strategic Tourism Management & Marketing at the University of Surrey from this September.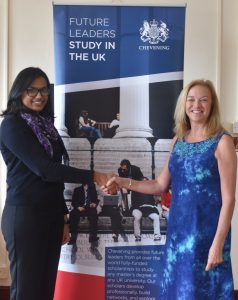 Zedella said:
"It is an honour to be selected for this year's Chevening Award and a privilege to be part of the prestigious Chevening community. This is something I have been striving towards since graduating with my Bachelor's degree in 2015, and I cannot express how excited I am to take this next step on the academic ladder. The University of Surrey offers a great combination course for Tourism and will be a beneficial tool in progressing my career with Enterprise St Helena."
Governor Lisa Honan added:
"I'm delighted Zedella's application to become a Chevening scholar has been successful. The scheme, which is funded by the Foreign & Commonwealth Office, gives future leaders the opportunity to develop their qualifications, talent, and ultimately help them contribute to their home country.  Zedella joins an array of alumni on St Helena who have also benefitted from the scheme and who are now in key positions on the Island.  I would encourage everyone to consider applying when they see these scholarships advertised each year.  They are a great stepping stone, not just for the individual, but also for the development and progress of St Helena."
During her course, Zedella will gain an insight into how strategic tourism management and marketing can be used to understand the contemporary issues affecting tourism today. Zedella will study compulsory modules in strategic human resource management, strategic tourism management and smart tourism design with an array of option modules including digital marketing and social media campaigns, strategic tourism consultancy, and event portfolio and destination development. The course will end with a final dissertation.
Zedella is currently the Communications Officer for Enterprise St Helena. She holds a Bachelor of Science (Honours) Degree in Human Geography, Journalism and Media Cultures from the University of Hertfordshire.
Congratulations are extended to Zedella from all on St Helena.
If you are interested in finding out more about the Chevening Scholarship Programme, please visit: www.chevening.org or speak to Sandra Sim on tel: 22308.
#StHelena #SaintSuccess #Chevening
https://www.facebook.com/StHelenaGovt/
https://twitter.com/StHelenaGovt
SHG
3 August 2018