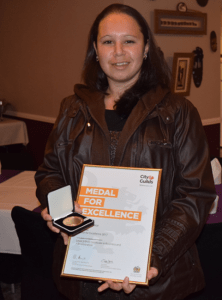 The National Vocational Qualification (NVQ) Centre at the St Helena Community College (SHCC) is pleased to announce that Tiffany Lawrence from the Environment & Natural Resources Directorate has been awarded a prestigious City & Guilds 'Medal for Excellence' for a Level 2 NVQ Certificate in Business & Administration.
Tiffany met the criteria for the medal by portraying in her portfolio of evidence:
Highly developed skills
Outstanding knowledge
Versatility and adaptability
Innovation and originality
Along with 83 other candidates across the UK, Caribbeans, Sri Lanka, South Asia, New Zealand, Dubai, South Africa, Ireland and Wales, Tiffany was recognized for her journey progression, high standard of commitment, passion, excellence in learning/training and excellence in skills and development.
NVQ Quality Assurance Coordinator, Joyce Duncan, said:
"The NVQ Centre at the SHCC is very proud of the the achievement made by Tiffany. Such dedication to learning and developing as well as achieving a high standard deserves this recognition and praise. I would like to extend congtratulations to Tiffany on gaining this prestigious award. Well done!"
City & Guilds 'Medals for Excellence' is a global programme that has been running for over 100 years. It recognizes the achievements of candidates, lecturers, and trainers in the UK and internationally who produce exceptional work, or overcome the odds to achieve their goals.
#StHelena #Education #SHCC #NVQ #MedalForExcellence #ENRD #SaintSuccess
https://www.facebook.com/StHelenaGovt /
https://twitter.com/StHelenaGovt
SHG
5 September 2018