Yesterday, the strong winds experienced across most of the Island caused part of the Mobile Aerial Netting System at Horse Point Landfill Site (HPLS) to partially collapse, due to a concrete anchor being dragged into the waste cell. The netting system is an important component at HPLS, which serves as a safeguarding measure to reduce bird-strike risk to aircraft as part of the Airport's Wildlife Hazard Management Plan.
This morning, staff from Waste Management Services, led by Landfill Manager, Patrick Crowie, worked hard in the strong winds to lower the net inside the waste cell in order to start repairing damage to the net and cabling. All stakeholders, including St Helena Airport, were advised of this incident as early as possible.
Environmental Risk Manager, Mike Durnford, said:
"Patrick and his team are fully aware of the importance of the net as a safeguarding measure and are working diligently, in difficult conditions, to rectify this issue as soon as possible. Having been on site this morning, I can appreciate how difficult their task is in the strong wind and rain.
"Whilst the speed of repair and reinstallation is weather/wind dependent, it is hoped to have the net back in operation by Wednesday, 4 July 2018."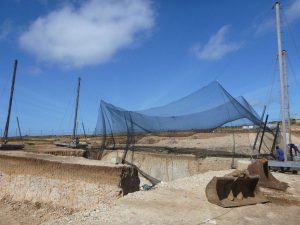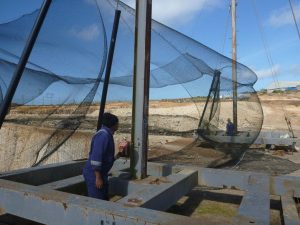 #StHelena #WMS #HPLS
https://www.facebook.com/StHelenaGovt/
https://twitter.com/StHelenaGovt
SHG
2 July 2018