St Helena was represented by the Registrar of Shipping, Karen Yon, and locum Crown Counsel (Civil), Andrew Radley, at the Red Ensign Group (REG) Conference in Guernsey this month. The Red Ensign Group represents a collective of British Shipping Registers and this year celebrated the 30th year of their conference – a forum to share best practice in terms of commercial successes and meeting international maritime obligations.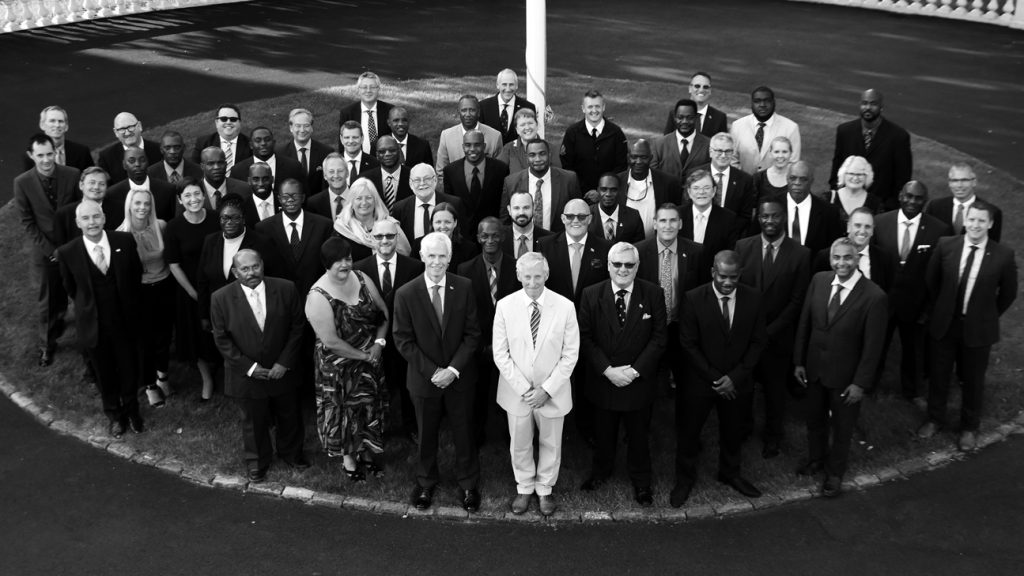 St Helena administers a Category 2 registry and can register vessels of up to 150 gross tonnes and pleasure vessels of up to 400 gross tonnes. Ship Registry is identified in St Helena's Sustainable Economic Development Plan 2018-28 as an export sector with the potential to expand in the future.
Karen commented:
"It was an honour to be invited to the 2018 REG Conference in Guernsey – the first time in the REG's history that all 13 dignitaries were represented.
 "The schedule was comprehensive and the meetings very useful. It was great for me as the Registrar to be able to share knowledge and views with colleagues from the OTs and Crown dependencies in our Registrar's Forum and to gain knowledge on best practices adopted in registering vessels.  It was also useful to hear how other dignitaries build/expand their registers as we are also looking at this option on St Helena."
A commitment to being ready for the International Maritime Organisation's (IMO) III Code audit in two years' time has been identified as a clear priority by attendees at the REG conference. Mock audits with support from the Maritime Coastguard Agency have been offered to the relevant UK government departments, Crown Dependencies & Overseas Territories. The group has also been tasked to identify gaps in their processes which will need to be addressed in time for the IMO audit which will happen in 2020.
Andrew concluded:
"It was a privilege to represent St Helena at the REG Conference. It was informative and educational. Particularly, we learned about SHG's obligations with regard to the implementation of the International Maritime Organisation's III Code and we have a lot to implement over the next 18 months in this regard.
"This was an important first step in not only understanding our international obligations, but also in terms of developing our own best practice shipping registry capability."
Notes for Editors
Red Ensign Group members from right across the world took part in this year's conference to discuss maritime matters of interest which was hosted this year by the Bailiwick of Guernsey. Since 1988 it's been held every year at different locations, reflecting the geography of the Red Ensign Group which consists of the UK, the Crown Dependencies of Guernsey, Jersey and the Isle of Man and Overseas Territories of Anguilla, Bermuda, British Virgin Islands, Cayman Islands, Falkland Islands, Gibraltar, Montserrat, St Helena, and the Turks and Caicos Islands.
#StHelena #RedEnsignGroup #ShipRegistry #SEDP #AltogetherWealthier
https://www.facebook.com/StHelenaGovt/
https://twitter.com/StHelenaGovt
SHG
29 June 2018