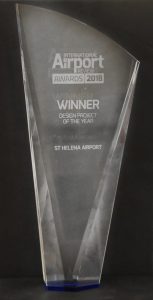 Following a public vote, shortlisting and consideration by a panel of independent aviation industry experts, St Helena Government is pleased to announce that St Helena Airport has won the International Airport Review's Design Project of the Year Award 2018 .  St Helena Airport was nominated in two categories in the 2018 awards – Airport of the Year and Design Project of the Year.  Over 12,000 votes were cast by the public and as a consequence, St Helena Airport was shortlisted for both awards.
Following a review and evaluation by aviation professionals, St Helena Airport was awarded International Airport Review's Design Project of the Year, and likewise came joint runner-up in the Airport of the Year category.
This award is recognition by the aviation industry of the successful construction of an airport in one of the world's remotest locations.  The Airport was designed to open-up quick access to the Island for residents and visitors and, in particular, to improve tourism and inward investment.  The skills and experience of local residents and ex-patriate workers alike were used to construct and operationalise an airport.  This complex and logistically challenging project was undertaken with safety, environment and quality at the forefront.  Since becoming operational, the St Helena Airport has catered to private charters, medevacs and scheduled flight services to St Helena, reducing the island's isolation and benefiting the Island's economy and future.
All who have been and continue to be involved with the airport project and operations are to be congratulated on their collaborative efforts.
#StHelena #StHelenaAirport #DesignProjectoftheyear
 https://www.facebook.com/StHelenaGovt /  
https://twitter.com/StHelenaGovt
SHG
14 December 2018