The Education Directorate's Inclusion Team held a community-based Policy Development Day on Thursday, 17 May 2018.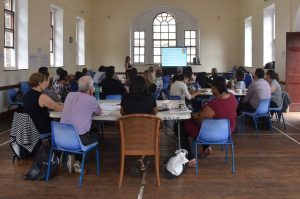 The day was focused around children and young people with special educational needs and disabilities (SEND) across all areas including communication, learning, mental health, and physical needs. The purpose of the day was to engage a wide range of community members in discussions and activities which were designed to gather views, experiences, and ideas for developing inclusive practice on St Helena. Attendees included parents, teachers, professionals across Education, Health and Safeguarding, as well as colleagues from local non-government organisations and the Attorney General's Chambers.
Following a welcome from Inclusion Manager, Lolly Young, and an opening speech from Director of Education, Shirley Wahler, Government Economist, Nicole Shamier, gave some information about the 'St Helena Connected' agenda and the conditions laid out by the EU in order to allocate funding to St Helena for this project. One of the milestones stipulated by the EU is that a SEND policy must be developed by June 2018 to support our most vulnerable children and young people.
Educational Psychologist, Claire Cox, gave a presentation on the vision for inclusive practices. This was centred on children's rights and aimed to give a theoretical underpinning to inclusion. Following a break, delegates were divided into groups and asked to engage in an 'appreciative inquiry task' which involved group discussions about what is already working well for inclusion, what the barriers and gaps are, and what the next steps could be. The attendees shared their experiences of positive practices, thought carefully about the unique issues arising on St Helena, and came up with a breadth of creative ideas and possible solutions.
Feedback, both formal and informal, has been very positive. On the whole, attendees found that the day increased their knowledge and understanding of inclusion and valued the opportunity to share views and experiences with people across a range of backgrounds.
The next steps will be for the Inclusion Team to develop the SEND policy in line with international law, evidence-based practice, and contributions from community members.
Lolly commented:
"This was a really excellent workshop. This collaborative approach to policy development is often the most effective route to change and with such strong representation across the community I feel confident that we can put together a policy that reflects the views and wishes of the people of this Island.
"We will face the immense task of putting the policy into practice, but as seen from this day, there is a lot of commitment to ensuring we build a more inclusive society on St Helena. Thank you to all who came and supported us on the day."
#StHelena #Education #SEND #Inclusion #PolicyDevelopment
https://www.facebook.com/StHelenaGovt/
https://twitter.com/StHelenaGovt
SHG
25 May 2018