'Signs of Safety' Consultant, Wendy Hill from Resolutions Consultancy, arrived on St Helena on Saturday, 28 April 2018, to deliver five days of 'Signs of Safety' training to a number of St Helena Government employees.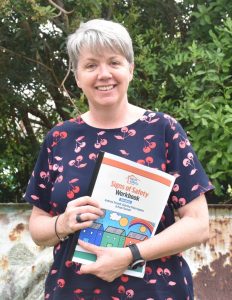 Over 70 people attended the training including staff from the Health, Education, Police and Safeguarding Directorates.
Wendy commented:
"'Signs of Safety' is a strengths orientated approach originally developed in Australia and is now used in safeguarding and family support work over the world including the UK, Europe, America and Canada.
"It has been a privilege to be here on St Helena and work with staff from a range of professional backgrounds who want to work together with families and the wider community to support vulnerable children and adults and keep them safe.  All the staff I have met this week are passionate about their work and want to make a genuine difference to the individuals and families that they support.  I have already heard some great stories about how people have been using their learning in their work this week and how families are saying they feel more included and involved because of the way their workers are using the 'Signs of Safety' approach.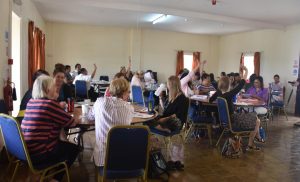 "This training is the start of an ongoing programme of training and coaching for St Helena staff and I am looking forward to seeing how this continues to develop over the next three years."  
The core 'Signs of Safety' training ran over three days (Monday – Wednesday) and provided insight into the tools and principles of 'Signs of Safety'. Staff were able to share learning and practice the approach during the training. A one day briefing session was delivered for staff to gain an insight into the approach on Thursday and then Wendy worked with the Senior Leadership Team and the members of the Safeguarding Children's Board on Friday to talk about how this can be taken forward and implemented on St Helena.
Director of Safeguarding, Matt Ansell, concluded:
"It has been really positive to see staff across all Directorates come together and talk about how we can work and support vulnerable people in the community of St Helena. 'Signs of Safety' is a strengths based model which looks to build upon peoples own strengths and find safety in families and their communities. St Helena will join many other countries across the world who use this practice approach and our staff will benefit from the support of the 'Signs of Safety' team over the next three years."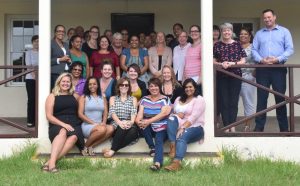 Wendy departed St Helena on Saturday, 5 May, and will be returning in October 2018 to deliver further training and mentoring on the approach.
More information about 'Signs of Safety' can be found at: www.signsofsafety.net
#StHelena #Safeguarding #SignsOfSafety #Training
https://www.facebook.com/StHelenaGovt/
https://twitter.com/StHelenaGovt
SHG
7 May 2018