SHG has been implementing a programme of Continuous Improvement following training delivered in June/July 2017 by Sascha Kiess from the Institute for Continuous Improvement for Public Services (ICIPS). A small number of staff were identified as 'Change Champions' and enrolled on the ICIPS professional training programme. As part of the initial training, each participant selected a project that they would use to demonstrate the practical application of their learning, working through the various steps to lead, manage and sustain their change project within their directorate. Kirsty Joshua from Enterprise St Helena is the first of the group to complete her project and attain recognition as a professional member with the Institute.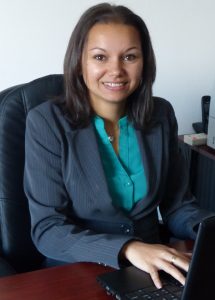 Kirsty said:
"To become a professional member I needed to submit a portfolio of evidence linked to my project. My project which  involved  developing and implementing a formal complaints and compliments process within Enterprise St Helena demonstrated my understanding and application of the factors that sustain change in organisations and enable continuous improvement."
Chief Secretary, Susan O'Bey, added:
"Kirsty has done extremely well to implement her project and reach the standard required by ICIPS to become a professional member. This is a great achievement and Kirsty is to be congratulated for her hard work and commitment."
The group of Change Champions has broadened to include the Future Leaders and now comprises the following:
Wendy Benjamin – Education Directorate
Tracey Williams – Airport Directorate
Myra Young – Environment & Natural Resources Directorate
Nicole Shamier – Corporate Policy & Planning
Jonathan Thomas – St Helena Police
Samantha Royles – Safeguarding Directorate
Carol George – Corporate Support
Bronwen Yon – Corporate Human Resources
Connie Stevens – Corporate Finance
Kirsty Joshua – Enterprise St Helena
Belinda Piek – Future Leaders Programme
The group meets regularly to discuss progress, share updates and best practice in relation to their individual projects, and support each other to champion continuous improvement within their directorates.
#StHelena #SHG #ContinuousImprovement #ProspectusforChange #ICIPS #Success #Enterprise St Helena
https://www.facebook.com/StHelenaGovt/
https://twitter.com/StHelenaGovt
SHG
21 June 2018