Heidi Murray recently arrived on-Island to take up her post as Manager of HM Prison.
Heidi is on a two-year contract and brings with her a wealth of experience, working within the British Prison Service for over 12 years and climbing all the way up to Governor Grade, which she achieved in 2010.
Her key objective on St Helena will be to manage HM Prison and Heidi will focus on performance management, monitoring targets and up-skilling staff.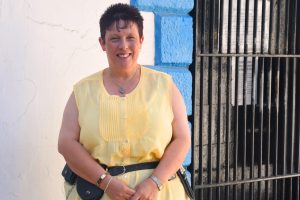 Heidi said:
"I was very nervous about coming to St Helena. Although everyone I spoke to before-hand said how friendly everyone was here, I could never have imagined just how welcoming the Saints would be and how much they would have supported me in the first few days. I already feel I have an excellent team working with me in the Prison, and I am hoping I will be able to build on the work that my predecessor, Lesley Giles, carried out."
Although a qualified maths teacher, Heidi chose to pursue a career in the Prison Service after visiting HM Prison Cardiff and getting involved in the Restorative Justice Programme. She has since worked in a number of roles in Category A, B, C and D prisons across the UK. These include holding titles such as Head of Residence at HM Prison Cardiff, Head of the Offender Management Unit at HM Prison Winchester and Head of Security at HM Prison Haverigg.
Heidi is a mother of three and grandmother of one and lived with her partner Stephen in a small mining village in South Wales before moving to St Helena.
#StHelena #StHelenaPolice #HMPrison #NewPrisonManager
https://www.facebook.com/StHelenaGovt/
https://twitter.com/StHelenaGovt
SHG
6 June 2018