Lindsay Shankland recently arrived on-Island and has been appointed as the new Director of HR and Organisational Development for SHG on a two-year contract.
Chief Secretary Susan O'Bey said:
"We recently broadened the HR remit to include Organisational Development as part of our continued commitment to modernise the St Helena Public Service. Lindsay will be leading this work and we are really pleased that she has joined our team.  Barbara George, our current Head of HR, will be retiring at the end of this year and is working closely with Lindsay as a part of her handover."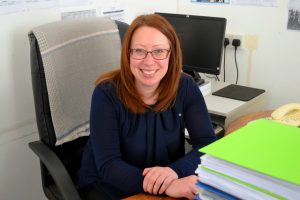 Lindsay has 14 years' HR experience across the public sector in the UK, in organisations that have strived to make a difference to the lives of the people they serve, with the last five years being in a senior leadership role.
Her last role was as the Director of HR for Norfolk and Suffolk Police where she was responsible for all aspects of Human Resources, Learning & Development, Workplace Wellbeing and Health & Safety. She was previously the Deputy Director of HR and Organisational Development for Essex County Fire and Rescue Service. As well as her experience with Police and Fire, she has also worked across Local Government, including in Adult Social Care, Children's Social Care, Education, Housing and Health.
Originally from Scotland, Lindsay grew up in Cumbria, went to university in Manchester, and has lived in Essex since 2003. Before coming to St Helena, she took a short break travelling through Australia and New Zealand for three months where she tried snorkelling and sailing for the first time.
Lindsay enjoys meeting new people, travelling, walking, reading and attending festivals and events. Since arriving on St Helena, she is determined to become a stronger swimmer and hopes to try diving while on-Island.
Lindsay said:
"I decided to apply for this role after reading the Terms of Reference and researching the Island. I am a passionate advocate of the positive difference good people management can make to an organisation, its leadership and its people, so I enjoy working for organisations like SHG where my work and the work of the HR team contributes to making a difference to individuals and communities. To me, this is a hugely exciting opportunity on both a professional and personal level and I am so pleased to be on St Helena and be part of an HR team that will support colleagues in SHG to deliver the best possible services."
#StHelena #HumanResources #NewAppoinment
https://www.facebook.com/StHelenaGovt/
https://twitter.com/StHelenaGovt
SHG
21 November 2018