The latest annual inflation rate, released today by the Statistics Office, stands at 4.0%. This is measured using the Retail Price Index and is the annual increase in the cost of the average weekly household 'shopping basket' for St Helena, between the fourth quarter of 2017 and the fourth quarter of 2016. The latest inflation rate is slightly less than the rate for the previous quarter, which was 4.4%.
The 'Alcohol and Tobacco' category had the highest rate of annual price increase, at 10.8%, and prices in the 'Food' category continued to increase faster than the average, at 7.0%. Also notable was a sharp increase in the inflation rate for 'Housing', from 0.4% in the third quarter to 4.6% in the fourth quarter, which is largely attributable to the increase in the cost of water introduced on 1 October 2017. The categories with the lowest price inflation rates were 'Household Goods', at 0.1%, and 'Fuel and Light', which includes electricity, at 0.2%.
Chart: Annual price inflation rate for All Items and Food (%)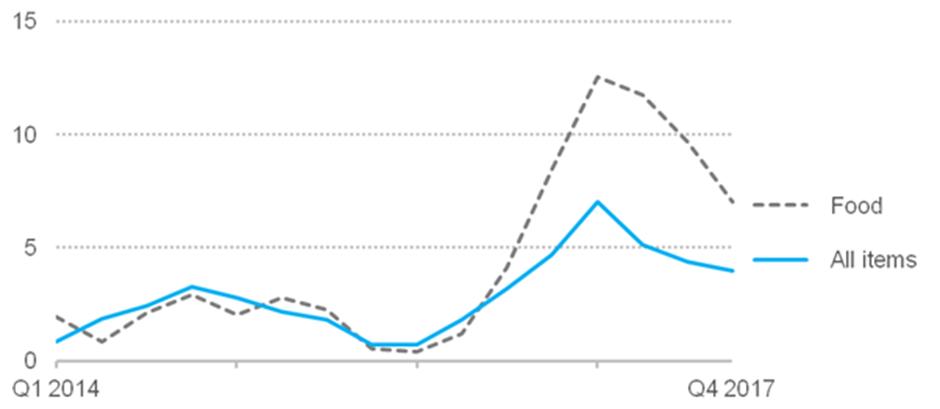 The Statistics Office has also today published an average inflation rate for the 2017 calendar year; this is the simple average of the four quarterly rates. For 2017, the average annual rate was 5.1%, an increase compared to the average quarterly rate for 2016, which was 2.6%. The average rate for 2017 is the highest annual average rate for the last five years.
For more details, please see the full version of the Statistical Bulletin attached, or available online at: https://www.sainthelena.gov.sh/statistical-bulletin-no-1-2018/
#StHelena #InflationRate #RPI #Stats
https://www.facebook.com/StHelenaGovt/
https://twitter.com/StHelenaGovt
SHG
16 January 2018