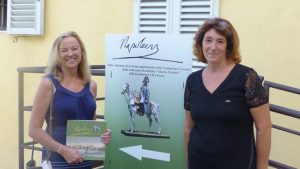 During her recent overseas leave, Her Excellency Governor Lisa Honan took the opportunity of a private holiday to Italy, to visit the Island of Elba, the place where Napoleon Bonaparte was exiled before his subsequent exile and death on St Helena.
While there, Governor Lisa had an official meeting with the Councillor of Tourism, Claudio Della Lucia, and also had a chance to look around one of the houses in which Napoleon lived during his exile. One of the discussions at this meeting was the approach Elba took to tourism and the possibility of developing a relationship between Elba and St Helena. Some of the ideas they thought were worth exploring included:
Joint tourism marketing

Fostering relationships between various organisations, e.g. the tourism offices, museums, Napoleonic residences etc.

Cultural exchanges

Sharing of experience on issues of commonality

Links between schools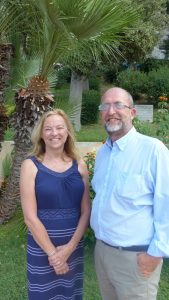 Governor Lisa said:
"Before coming to St Helena, I had read about Napoleon's escape from Elba and had always wanted to see the Island for myself. When I became Governor of St Helena, the Island which he didn't escape from, Elba became even more fascinating.
"Elba and St Helena were key components of Napoleon's 'exile story'. I found it amazing to be walking around Napoleon's house in Elba and to see comments on the information boards about St Helena. There was even a painting of Napoleon on his deathbed. Indeed I recognised many echoes of Napoleon's time on Elba in what I have seen on St Helena. These are little nuances which the normal tourist to Elba wouldn't pick up – from the similar layout of both gardens to the cypress trees he planted on both locations. I think it would be exciting to link up the two Islands more as we move forward with our tourism development. We have so much to learn from Elba, but we also have a lot in common. I have asked the Director of Tourism and the Director of Education to make contacts and see what can be done."
#StHelena #IslandofElba #Napoleon #Tourism
https://www.facebook.com/StHelenaGovt/
https://twitter.com/StHelenaGovt
SHG
21 September 2018