The visiting Commonwealth Parliamentary Association (CPA) Resource Team departed St Helena on Saturday, 27 January 2018, after delivering a Post-Election Seminar to St Helena's Legislative Council.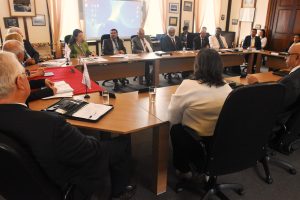 The Seminar incorporated 14 different sessions, covering a range of topics including, 'The Evolution of Parliamentary Democracy and the Constitution of St Helena', 'Public Speaking – Enabling Parliamentarians to Communicate Clearly and with Impact', 'Practice and Procedure in the House' and 'Ethics and Accountability of Members of Parliament'.
The CPA Post-Election Seminar provided Members of Legislative Council with the opportunity to ask questions about parliamentary practice and procedure, resulting in a better understanding of the parliamentary system and democratic processes in other Commonwealth jurisdictions.
Councillor Derek Thomas said:
"I think that the CPA's visit was very successful indeed. After wrapping up the final session on Friday, Members commented on how successful the Seminar was. It will certainly be of benefit to all Councillors in terms of their development, but also to the Secretariat who will also have learnt a lot. So, in all, it's been very good, very successful, I can see that it will empower Councillors a lot more and we look forward to taking advantage of future opportunities to develop our Council."
The CPA is the only Commonwealth body that works to strengthen territorial assemblies and legislatures. The relationship between St Helena and the CPA is key in providing a platform to develop good parliamentary practice within the self-governing UK Overseas Territories and to share good practice with other similar legislatures across the Commonwealth.
#StHelena #CPA #PostElectionSeminar #LegislativeCouncil
https://www.facebook.com/StHelenaGovt /
https://twitter.com/StHelenaGovt
SHG
29 January 2018