The result of a partnership programme between St Helena Government, Enterprise St Helena, the St Helena Community College, and Stephenson College in the UK, saw ten students awarded with Edexcel BTEC Higher National Certificates (HNC) and Higher National Diplomas (HND) in Construction and the Built Environment at a presentation held at Mantis St Helena yesterday, Thursday 15 February 2018 (see photo attached).
Councillor Lawson Henry gave opening remarks on behalf of ESH. He said:
"St Helenians are very talented with many developing their skills and craft over many years, learning from others in the community. The Board and team at ESH wanted to recognise those skills and talents and support those on-Island by giving them access to opportunities for appropriate qualifications. That is how this programme came about."
The Principal and Director of Stephenson College, Dr Nigel Leigh, then gave a heart-warming speech in which he spoke about the friendship and respect between Stephenson College and St Helena. He praised the partnership programme and said the College was honoured to have been part of this successful venture. He gave admiration for the dedication and quality of work produced by the students on the course and said it stood to prove the Island's hunger for knowledge and thirst for development. He encouraged the continuation of the partnerships in future to educate Saints and enrich the lives of all on-Island.
Certificates were then presented to the ten students – Len Coleman, Nico Ellick, Darren Francis, Ian Gough, Theron Henry (absent), David John, Merrill Joshua, Mark Plato, Devlin Yon, and Peter Young – by Dr Nigel Leigh and Governor Lisa Phillips.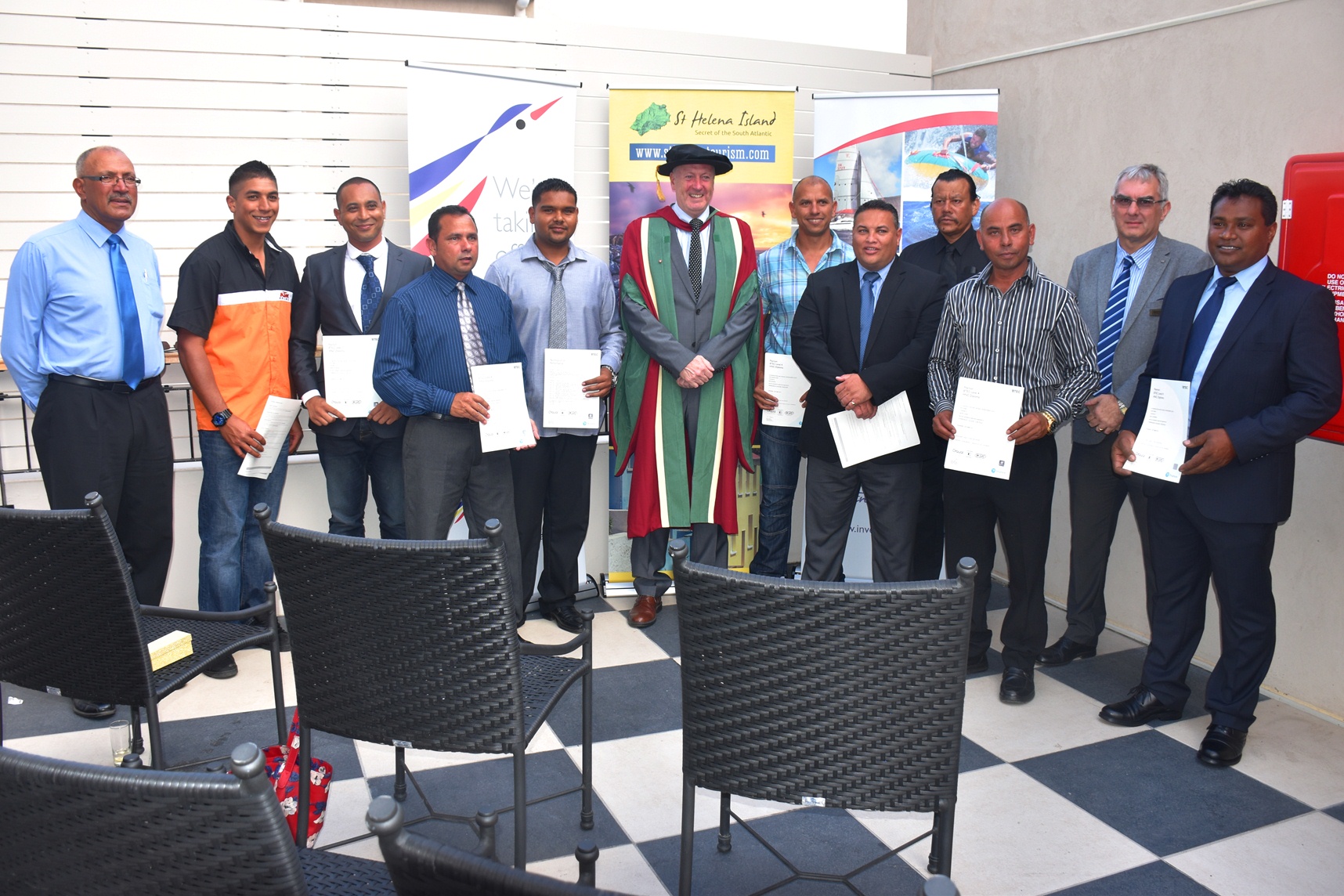 The courses represent either the first or second year of a Degree programme and will now enable the students to apply for memberships of the various International Construction Institutions such as the Royal Institute of British Architects (RIBA), the Institute of Architectural Technicians (IAT), the Institute of Civil Engineers (ICE), the Royal Institute of Chartered Surveyors (RICS) and the Chartered Institute of Building (CIOB).
Following the presentation, ENRD's Head of Technical Services, David Goodrick, who played a key part in setting up the partnership programme, praised the students for their achievements.
David said:
"This project has shown me the power of positivity. Positive people in a positive environment can achieve great things. I'm sure the students will carry this positivity forward with them for the rest of their lives and use this experience as proof that they can achieve anything they set their minds to."
#StHelena #ESH #SHCC #StephensonCollege #StudentGraduation #SaintSuccess
https://www.facebook.com/StHelenaGovt/
https://twitter.com/StHelenaGovt
SHG
16 February 2018