RMS FAREWELL FANCY HAT COMPETITION – FRIDAY 9 FEBRUARY 2018
Good afternoon ladies and gentlemen, this is the Officer of the Watch speaking from the Bridge. The RMS Farewell Celebrations, at Noon today, are ongoing. We have covered many weeks of planning and have just over a week to go before our last voyage from St Helena.
As part of our Farewell celebrations we would like all adults to take part in our traditional fancy hat competition on Friday, 9 February, during the seafront festivities.
Show us your creative flair; come along on the day in a nautical themed head dress. You could be a sailor, a pirate, dress your head in the red, white and blue or include anything maritime related.
Our expected time of judging is 6pm on Friday, 9 February 2018. We look forward to your participation. Monetary prizes will be awarded for the best hat.
Have a pleasant day and we hope you continue to enjoy our last voyage. Thank you.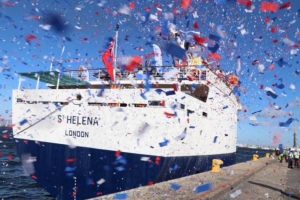 RMS Farewell Working Group
30 January 2018