Over the past few years, St Helena's schools have struggled at times to find sufficient qualified teaching staff.  As a result, considerable efforts have been invested in identifying and developing potential teachers.  The Education & Employment Directorate is proud to share the achievements of its Teacher Trainees.
Robyn Sim
Robyn started her career as a teacher here on St Helena in 2013 where she initially worked as a Teaching Assistant and then enrolled on the local Initial Teacher Training Programme.   After completing a year's training on-Island, Robyn was given the opportunity to continue her studies in the UK and work towards becoming a UK Qualified Teacher.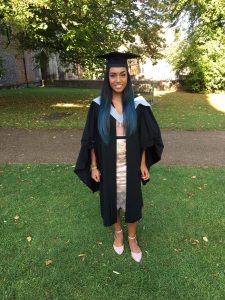 Robyn began her journey in September 2014 studying towards a Foundation Degree in Early Years with the University of Hertfordshire. This involved completing modules such as Legislation & Legal Responsibilities, Developing Professional Practice, Early Years Frameworks – Principles into Practice and Approaches to Research.  Whilst studying, Robyn also worked as a Teaching Assistant in a Special Educational Needs (SEN) school for pupils with moderate learning difficulties – this has given her a wealth of experience of working with children with SEN.  Another requirement of this course involved volunteering in different Nursery settings and visiting many children's workforce settings to gain vital experience and practice, and helping to link theory to practice. In undertaking this foundation course Robyn has gained a wealth of knowledge and experience which she can continue to use as her career progresses.
After passing the Foundation Degree, Robyn enrolled on the final year of the B.Ed. Primary Degree. In order to gain direct entry onto the course from the Foundation Degree, she had to have a successful interview and pass Maths and Literacy Skills tests to be offered one of the few places.  Robyn achieved these requirements and successfully enrolled on the B.Ed. Primary Degree.
The B.Ed. Primary Degree focused on preparing individuals for their first year of teaching and was very practical based. Modules covered focused on Developing Professional Practice, English across the Curriculum, How to become an Outstanding Maths Teacher and Developing a Creative Curriculum. These modules focused highly on identifying the type of teacher one wished to be by establishing the individual's core values and beliefs.  During her final year, Robyn was required to complete one term of school-based training, teaching 80% of the class timetable in a Year 1/2 class which allowed her to gain essential experience and practice of teaching, planning, working with adults and parents, and meeting the individual needs of the pupils under guidance of allocated mentors.
Robyn was successful on this course and graduated gaining a B.Ed. Degree in Primary Education on 9 September 2017 at St Albans Abbey. Robyn is currently working in the UK to gain further teaching experience and to work towards completing her induction year as a Newly Qualified Teacher.
Robyn said:
"My first term has been exciting but challenging due to the new changes with Nursery Schools making it possible for children to remain in schools for 30 hours per week rather than 15. However we are all getting used to the new arrangements and were excited to prepare for the school Christmas celebrations.
"Thank you to the Education Directorate, my mentor, Mr Brian Fredericks, and everyone who has supported me in the last three years. They have been three challenging years but definitely rewarding."
Local Teacher Training
In October 2016, four Teacher Trainees – Andrew Yon, Shannon Henry, Roberta Thomas and Chloe Thomas – all embarked on studies with the Open University as part of a new two-year local Teacher Training Programme. This programme offers internationally accredited training to local candidates and allows them rapid progression in the Scheme of Service for teachers.  Trainees studied towards the Certificate of Higher Education in Education Studies (Primary) which involved studying the modules Learning & Teaching in the Primary Years and Introduction to Childhood Studies and Child Psychology.
The Directorate is proud to report that the entire 2016 cohort have successfully completed and passed these modules. They are currently completing the accredited professional training that forms the second year of their programme.
Two current Teacher Trainees – William Knipe and Keeley Yon – started their studies on this course in October 2017.
International PGCE
The Directorate is also able to offer for the first time the opportunity to gain an International Postgraduate Certificate in Education through distance learning.  Gareth Drabble started his studies towards gaining this certification in January 2018.   Gareth previously completed a first degree in Networking while studying in the UK and currently teaches IT at Prince Andrew School.
Director of Education & Employment, Shirley Wahler, said:
"We are very proud of the achievements of these talented young Saints.  Some of them are already making valuable contributions to our schools, and we look forward to their future contributions as well.  It is very gratifying to see such success in our efforts to ensure a sustainable and professional teaching cadre."
#StHelena #Education #Achievements #Teachers
https://www.facebook.com/StHelenaGovt/
https://twitter.com/StHelenaGovt
SHG
16 February 2018