New Solicitor General for St Helena, Allen Cansick,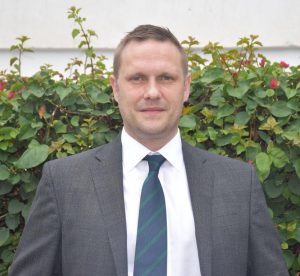 recently arrived on-Island to take up his role in the Attorney General's Chambers.
Allen has been appointed on a two-year contract. He will undertake work in all aspects of the Attorney General's Chambers and deputise for the Attorney General when required.
Allen said:
"I am honoured to have been appointed Solicitor General.  I decided to take up this role due to its diverse and challenging nature. I was also persuaded by the opportunity to move with my family to such a friendly and fascinating Island. I hope to contribute to the achievements of the Island and its people over the next two years."
Attorney General, Sara O'Donnell, added:
"The Attorney General's Chambers is delighted to welcome Allen as the new Solicitor General.  Allen brings with him a wealth of experience as a criminal barrister having worked not only in England but also in Kosovo. He is a valuable addition to the team and I very much look forward to working with him. My team and I wish him every success in his new role."
 Allen was called to the Bar in 2004 and practised as a Barrister in London. During the last five years Allen was seconded by the UK Foreign & Commonwealth Office to the EU Rule of Law Mission in Kosovo, where he worked as a Special Prosecutor.
 #StHelena #SolicitorGeneral #NewAppointment
https://www.facebook.com/StHelenaGovt/
https://twitter.com/StHelenaGovt
 SHG
18 April 2018