The 63rd Commonwealth Parliamentary Conference in Bangladesh continues.
Today, Councillor Thomas was the moderator for the Workshop on Climate Change. There were two Discussion Leaders followed by questions from the floor where countries were able to express specific issues and challenges affecting them.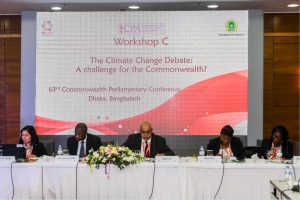 Councillor Thomas said:
"Climate Change is a major issue to the planet which requires concerted action individually and collectively by Nations. Commonwealth Nations should therefore act urgently in their respective countries."
Two actions were agreed at this morning's workshop:
Parliaments within the Commonwealth should ensure a framework for combating climate change is developed and implemented within each region and updated at Regional Conferences

Legal reform can make a low carbon and climate resilient development pathway possible by reinforcing policy, strengthening institutions and mobilising resources towards climate change activities
Both recommendations were fully endorsed and will form part of the Conference Concluding Statement which will be issued at the General Assembly.
Councillor Kylie Hercules stood in as an observer on the various workshops and was able to build working relationships and gain some valuable experience from the discussions.

#StHelena #Councillors #OverseasBusiness #CPC #Bangladesh
https://www.facebook.com/StHelenaGovt/
https://twitter.com/StHelenaGovt
SHG
6 November 2017