A reception to promote the prestigious Chevening Scholarships was held at the Blue Lantern yesterday, Thursday 31 August 2017. Invited guests included members of St Helena's Chevening alumni, former students of Prince Andrew School, past University graduates and potential Scholarship candidates.
Governor Lisa Phillips opened the event by welcoming everyone and remarking on the great opportunity that the Chevening Scholarship Awards present for those wishing to expand their academic backgrounds. HE spoke of Chevening Scholars she knew who had gone on to become leaders in their countries, having taking advantage of all that Chevening has to offer.
St Helena Chevening Alumini, Financial Secretary Dax Richards and Tara Wortley from the Private Sector than gave inspirational presentations on their Chevening experiences, the people they met, the relationships they built, and the invaluable knowledge they gained. Both Dax and Tara encouraged those in attendance to really think about applying for a Chevening Scholarship and to take full advantage of this opportunity. Invited guests were then able to browse the information on display about the Chevening Awards.
Head of News, Kerisha Stevens, said:
"Last night's event was about raising the profile of Chevening Scholarships on St Helena. This is the first time we have done something like this, and it was about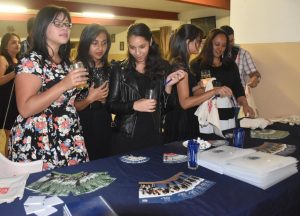 making people more aware of the vast opportunities that Chevening offers to individuals – not only through knowledge transfer and the gaining of a masters degree but also through the rich and diverse cultural experience that scholars will encounter on the award. Hopefully we have encouraged some potential candidates to apply for this year's round."
Applications for Chevening Scholarships are open until Tuesday, 7 November 2017, with applications to be submitted via: www.chevening.org/apply
Chevening Scholarships are funded by the UK Government and are awarded to individuals with demonstrable leadership potential who also have strong academic backgrounds. The scholarship offers full financial support for future leaders to study for any eligible master's degree at any UK university whilst gaining access to a wide range of exclusive academic, professional, and cultural events.
There are more than 1,500 scholarships on offer globally for the 2018/2019 academic year, representing a significant investment from the UK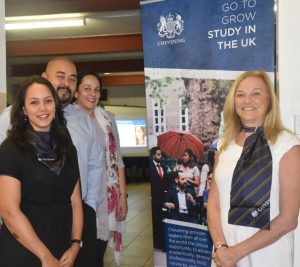 Government towards developing the leaders of tomorrow. There is no set quota for each country.
For more information on the eligibility criteria and award specifications, please visit www.chevening.org/apply/guidance or contact Kerisha Stevens on tel: 22368 or email: kerisha.stevens@sainthelena.gov.sh
Further information is also available at www.chevening.org
Four photos are attached to this release.
#StHelena #Chevening #ChosenforChevening
https://www.facebook.com/StHelenaGovt/
https://twitter.com/StHelenaGovt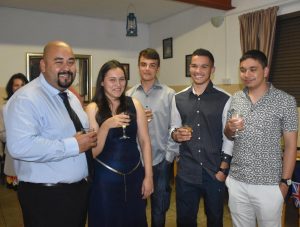 SHG                                                                                                                                     
1 September 2017