The St Helena General Hospital Pharmacy opened to the public, yesterday, Wednesday 22 March 2017, in its new location on the ground floor of the main administration building (first door to the left of the main entrance). This re-location was necessary to provide better access to the Pharmacy for those who were unable to climb the stairs to reach its previous location.
Pharmacist, John Woollacott, said:
"This has been something that the public has wanted for a very long time. The main reason for re-locating is for accessibility as a lot of people in the past have had great difficulty getting up and down the stairs, particularly the elderly and the disabled.
"I hope this will be a better location. It is a bit early to say as we've only just opened and we are still trying to find everything, but I think once we get used to the new premises we will be very happy down here.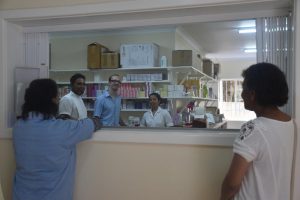 "I hope that people that weren't able to access the Pharmacy before will be able to come in and see us now. It is user-friendly, easy to find and easier to access."
Two photos are attached.
#StHelena #HospitalDevelopment #ImprovedServices
https://www.facebook.com/StHelenaGovt/
https://twitter.com/StHelenaGovt
SHG                                                                                                                                          
23 March 2017