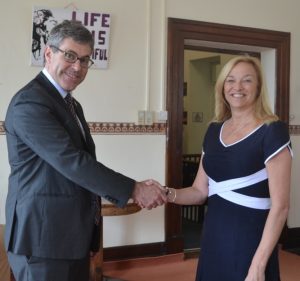 St Helena's new Statistician, Mr Neil Fantom, arrived on-Island on Sunday, 18 June, and was this afternoon sworn into his new role by Her Excellency Governor Lisa Phillips in the Governor's Office at the Castle (see photo attached).
Neil took the prescribed Oaths for Statistics Officer in the presence of colleagues and his appointment is effective immediately.
As the Statistician for St Helena, Neils' role will be to lead the Statistics team to manage data which enables evidence-based decision making, monitoring and planning on the Island.
Neil replaces Paula McLeod who left the Island in December 2016.
#StHelena #NewStatistician #SwornIn
https://www.facebook.com/StHelenaGovt/
https://twitter.com/StHelenaGovt
SHG
20 June 2017