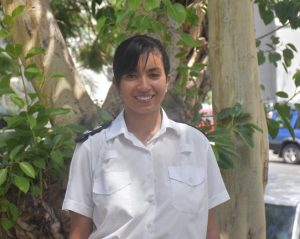 St Helenian, Julianne Benjamin, from the St Helena Police Service (see photo attached) joins the growing list of Saints in senior management positions, following her recent promotion from Sergeant to Inspector of Operations.
Julianne said on her promotion:
"I am proud of myself for this accomplishment. I am grateful to my family for all of their support during the prolonged absences, the long hours and the numerous callouts. Additionally, gratitude goes to the Police Service for presenting opportunities for Saints to succeed, especially as it has been about 30 years since a Saint woman has held the rank of Inspector within the Service."
 Julianne is responsible to the Chief Inspector and now takes on a more important role in running police operations. She leads a team of four Sergeants, 16 Constables, Special Constables, the Vehicle Inspector, and an Administration Assistant. Julianne is passionate about making decisions with integrity and prioritising her workload to ensure important issues are taken care of.
Julianne joined the Police Service in 2012 with a personal goal of being a good role model to her son. Despite having an inquisitive mind and a good attitude, she never knew she would work her way up the ranks to Inspector.
Acting Chief of Police, Steve Riley, said:
"I am really pleased for Julianne. She is a very talented officer who has had a rapid rise through the ranks over the past five years. Her commitment and dedication to her role and to making our community safer means that she will have a bright future."
 Julianne encourages young people to pursue a policing career. She said:
"It's not easy, but it`s worth it. Stepping out into your community as a Police Officer is something to be proud of. It takes courage to police our small community, but with the right support and guidance you will succeed. You must be determined and motivated, always be fair and, whatever you do, always have integrity. This Island and its people are our home and family – we must take care of them as such."
 #StHelena #StHelenaPolice #Promotion #SaintSuccess
 https://www.facebook.com/StHelenaGovt/
https://twitter.com/StHelenaGovt
SHG
13 April 2017