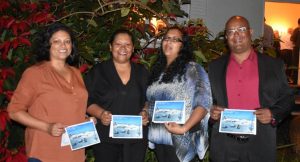 Governor Lisa Phillips hosted a special reception at Plantation House last night, 16 May 2017 to formally thank all involved who played a big part in getting the stranded passengers in Cape Town, back to St Helena. 
 The reception was attended by SHG Officials, Councillors and the stranded passengers themselves.
 Governor Lisa Phillips said:
 "There was a lot of work going on behind the scenes to ensure that the people got home. It was no easy task and it took commitment and resourcefulness on the part of many.
 "I would like to pay tribute to SHG officials that pulled this off so quickly, and thank those who were stranded in Cape Town for showing the accustomed St Helenian resilience that I have come to admire so much; 3 May 2017 will go down in St Helena's history."
 'Thank you' and 'Congratulations' cards were presented to all involved, including passengers that arrived and departed the Island via the 146 Avro RJ85 Aircraft.
 #StHelena #FirstPassengerFlight #PlantationHouse
 https://www.facebook.com/StHelenaGovt/ 
https://twitter.com/StHelenaGovt
SHG
17 May 2017