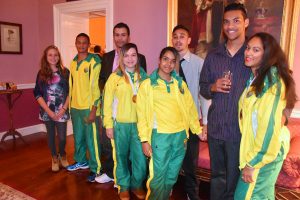 On Thursday evening, 10 August 2017, Governor Lisa Phillips opened the doors of Plantation House for all involved in St Helena's participation in the 2017 Island Games in Gotland and the Commonwealth Youth Games in the Bahamas. Guests included the athletes, managers, members of the National Amateur Sports Association St Helena (NASAS), families and friends.
Governor Lisa Phillips said about the night:
"It is always an honour to use Plantation House for events, but my favourite ones are those in which we recognise achievement and say 'thank you'. We did both on this occasion. We recognised the fantastic achievement of our competitors, but particularly said thank you to all of those who supported them in achieving their performance – from parents, grandparents, sponsors, youth organisations, coaches, teachers, friends, volunteers, and many more besides."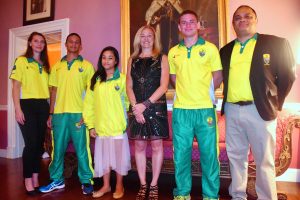 Chairman of NASAS, Nick Stevens, spoke of his pride for the athletes in the way they performed and represented the Island. He also called for Councillors to recognise the importance of developing the sport infrastructure on-Island to improve standards and increase the chances of further success in future international competitions.
Governor Lisa added:
"On St Helena there are many opportunities to represent the Island overseas. Those which involve sport, I would argue, are some of the most valuable to an individual's growth, particularly young people. When you push yourself in sport, it can give you confidence to go outside of your comfort zone in other areas of life. The competitors from these Games should think of themselves as the leaders of tomorrow."
The official Commonwealth Games will be held in the Gold Coast, Australia, in April 2018 with the next Island Games being held in Gibraltar in 2019.
Two photos are attached to this release.
#StHelena #Sports #IslandGames #CommonwealthYouthGames #NASAS #SaintSuccess #CelebratingSuccess
https://twitter.com/StHelenaGovt
https://www.facebook.com/StHelenaGovt/
SHG
11 August 2017