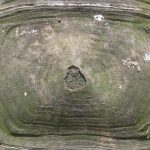 Fredrika the tortoise from the Plantation House paddock underwent treatment yesterday afternoon, Tuesday 30 May 2017, for several lesions on her shell.
St Helena Vet, Catherine Man, reported that the procedure went well although the lesion was a bit larger than expected.
The veterinary team will continue to dress the lesion with a gel dressing for the next few weeks and see how the lesion heals. The dremmeling may have to be repeated if required.
Catherine said:
"Fredrika was an absolute star during the procedure and did not seem at all fazed by it. Jonathan came over and would not leave our side the whole way through!"
Tortoises are cold-blooded animals and have slower metabolisms than humans. This means they tend to do everything slowly, including healing. It is expected that it will take months before the lesions are healed.
#StHelena #PlantationTortoises #FredrikaTheTortoise
https://www.facebook.com/StHelenaGovt/
https://twitter.com/StHelenaGovt
SHG
31 May 2017