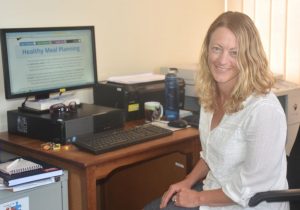 St Helena's first ever Dietician, Georgina Giebner (photo attached), arrived on St Helena on Friday, 28 April 2017, to undertake her role working within the Health Directorate. Georgina is on-Island for two years and is based at Half Tree Hollow Clinic.
Georgina said:
"The importance of having a Dietician on St Helena is to give members of the public a voice, so that they feel empowered to make their own choices about healthy eating. A Dietician's key role is to work with people, not prescribe a diet, but to work with someone to come up with a better plan through diet education."
 As this is a new role, Georgina will first be looking at how she is best placed. She is hoping to use her initiative to help members of the public with healthy eating and diabetes prevention. She would also like to work alongside women who would like to become pregnant, to offer advice of being healthy throughout their pregnancies, and also to help with pregnancy nutrition and young families.
Georgina will also be covering other areas such as helping anyone who has problems with eating, or tummy problems, as well as those losing too much weight. She will also be discussing what people want to do with their health and helping them with their nutrition.
Having been inspired by a Dietician in school, Georgina went on to become a Dietician herself and has been in this field of work since 1999. She has a Degree in Physiology, Post Graduate Diploma in Dietetics and a Master's Degree in Public Health and Clinical Nutrition.
Before coming to St Helena, Georgina worked as a Cancer Services Dietician, where she spent a lot of time supporting people and their families with Cancer.
Director of Health, Akeem Ali, said:
"Having made headway with providing increased access to treatments at the Hospital, we are equally making wellbeing, better lifestyle and prevention of ill-health a priority. Georgina will be working with colleagues in the Community Nursing team, the Hospital, Mental Health, Health Promotion and the wider community."
 Georgina concluded:
"I am really looking forward to starting work on the Island and meeting new people and I hope that members of the public will feel free to approach me."
 #StHelena #HealthyEating #Dietician
 https://www.facebook.com/StHelenaGovt/
https://twitter.com/StHelenaGovt
SHG                                                                                                                                  
12 May 2017