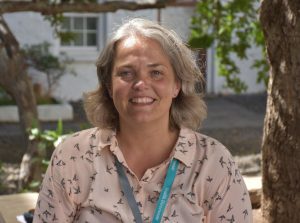 Community Psychiatric Nurse, Katie West (photo attached), arrived on-Island on Wednesday, 3 May 2017, to undertake her new role within the St Helena Mental Health team. Katie is on-Island for one year and is based at St John's Villa in Jamestown.
Katie said:
"My post will require me to offer face-to-face assessments to anyone seeking support from our services because they are worried about their mental health."
 Following these assessments, treatment and medication can be offered, but more commonly, support can be provided in various practical ways, including learning skills and techniques to manage symptoms – either by working with nurses, the team psychologist, or by accessing help online.
Katie added:
"We are also going to be offering groups, where people can come and share their experiences and offer moral support to one another as part of their recovery."
The St Helena Mental Health team is well established and comprises a Mental Health Nurse, Social Worker, Psychologist and a visiting Consultant Psychiatrist. The team offers a confidential 24-hour service and has a great deal of knowledge and experience in many different areas of mental health – obtained from several different countries.
Katie has worked as a Mental Health Nurse for the past 15 years in various different posts, but always with adults who are acutely unwell. Before coming to St Helena, Katie worked as a Psychiatric Liaison Nurse in an A&E at her local hospital in the UK.
Director of Health, Akeem Ali, said:
"We welcome Katie to the Mental Health team and the Health Directorate. We are pleased that she's able to hit the ground running because of her extensive experience working in the mental health field. Katie will add to our capacity to give direct support and care to our clients while also working with the wider community team to promote better mental health."
 Katie concluded:
"I hope my arrival on St Helena will further expand the range of support we can provide. I am also hoping to be able to offer some education to my colleagues in the General Hospital and to local employers, regarding how to support their employees who are experiencing mental distress.
 "I have found everyone to be so welcoming and hospitable. Waving to people as you pass by is such a simple gesture that costs nothing but conveys a sense of consideration and warmth to each other."
 #StHelena #MentalHealth #PsychiatricNurse
 https://www.facebook.com/StHelenaGovt/
https://twitter.com/StHelenaGovt
SHG                                                 
16 May 2017