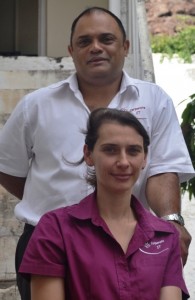 IT Section Manager, Jeremy Roberts and IT Development & Support Officer, Nicole Richards (pictured), left St Helena in September 2015 for Kingston, Jamaica – to embark on the advanced training course for the Automated System for Customs Data (ASYCUDA World).
This advanced course focused on preparing both Jeremy and Nicole to install, administer and maintain Asycuda World, and to understand the use of Structured Query Language (SQL) – needed to manipulate, edit and add data to Asycuda texts, and to retrieve requested information from the database. Training attendees also became familiar with the Relational Database Management System and specific operating systems.
The training also touched on troubleshooting methods for Asycuda World – essential on a remote Island such as ST Helena, where gaining off-Island support is very costly and timely consuming.
Nicole spoke of the training:
"This training has put us in a position to confidently carry out an upgrade of Asycuda World to the most recent version – which contains enhancements, fixes and additional modules which will benefit users.
 "A big part of the import and export of goods is obviously obtaining the relevant taxes or duties for goods. We are also now in a position to be writing these taxation rules which will be tested by Customs Officers before they are implemented for real."  
 Jeremy, who has undergone previous training in Geneva, spoke of the benefits of his trip to Jamaica:
"Asycuda World will allow St Helena Customs, traders and other Government agencies to handle most of their transactions via the internet. This includes cargo manifests, transit documents, duty and taxes payments as well as certifications and licences."
 The Asycuda World system makes use of cutting edge ITC technologies – including electronic signatures, biometrics (used in computer science as a form of identification and access control), extensible mark-up language (XML – the encoding of documents in a format which is both human and machine-readable) – to provide Governments, and in particular Customs administrations, with new tools, and to make dramatic improvements in security, trade efficiency and the fight against corruption and fraud.
SHG                                                                                                                                       
8 January 2016